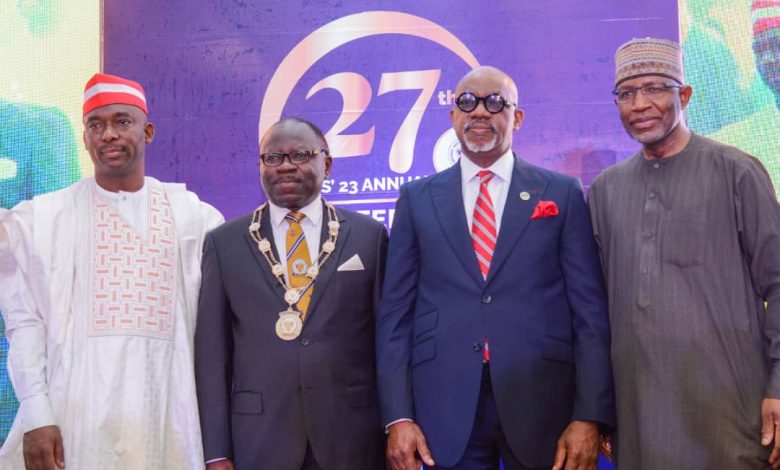 Daud Olatunji
In a groundbreaking address at the 27th Annual Conference of the Chartered Institute of Stock Brokers in Abeokuta, Ogun State Governor, Dapo Abiodun, has  passionately advocated a strategic alliance between the Federal and State governments and the Nigerian Capital Market.
The Governor underscored the pivotal role that robust infrastructure plays in fostering socio-economic development, emphasizing its significance in expanding a country's economic horizons.
Governor Abiodun acknowledged the critical importance of the stock exchange to a nation's economy, urging stockbrokers to safeguard transparency, accountability, and good governance in the oversight and operations of the stock exchange.
He challenged the conference to delve deeply into exploring how the capital market could emerge as a potent source of capital aggregation, contributing to funding essential infrastructure projects and catalyzing the growth of local businesses.
Highlighting the need for a comparative analysis of Nigeria's capital market evolution with global counterparts, Governor Abiodun charged the conference with the responsibility of formulating strategies to make the capital market a driving force for economic diversification.
He expressed optimism that the conference's deliberations would focus on methodological reviews of global financial market trends and the imperative to leverage inherent prospects and opportunities for the advancement of the nation's financial market.
Governor Abiodun shared insights into his administration's commitment to attracting both local and foreign investors to Ogun State.
He outlined business-friendly policies and increased infrastructure development that have elevated the state's ranking on the ease of doing business index, creating a conducive environment for investment.
Mr. Oluwole Adeosun, President and Chairman of the Chartered Institute of Stockbrokers, lauded Governor Abiodun for fostering an enabling environment for industrialization.
He affirmed the crucial role the capital market plays in a nation's economic development and pledged that the conference would serve as a platform for stockbrokers nationwide to contribute collectively towards the socio-economic advancement of the nation.
Do you want to share a story with us? Do you want to advertise with us? Do you need publicity for a product, service, or event? Contact us on WhatsApp +2348183319097 Email: platformtimes@gmail.com