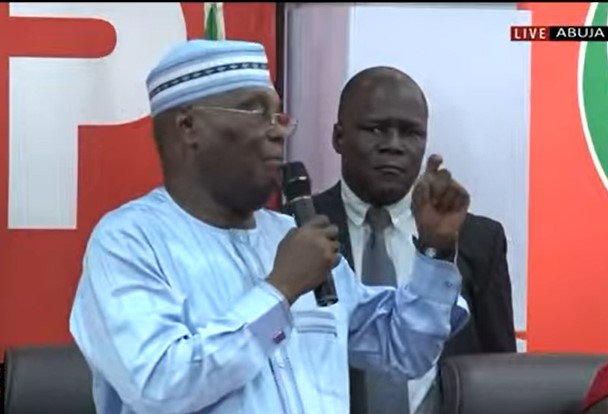 The former Vice President of Nigeria, Atiku Abubakar, has firmly denied issuing any statement congratulating President Bola Tinubu following the election petition tribunal's outcome in Abuja. 
He also dismissed suggestions that he was entering political retirement, emphasizing his commitment to the ongoing political battle.
Addressing the media at a press conference in Abuja, Atiku Abubakar refuted the purported statement allegedly attributed to him, congratulating Tinubu on the tribunal's judgment. 
His Media Adviser, Mr. Paul Ibe, categorically labeled it as "fake news" orchestrated by those desperately seeking validation for what he called the usurpation of the Nigerian people's mandate.
Furthermore, Atiku Abubakar conveyed his optimism despite the recent setback in the legal battle. He stated, "The battle may have been lost, but I am very hopeful of winning the war."
Paul Ibe, in his remarks, emphasized that Atiku could not endorse electoral malpractice, as it would compromise the integrity of the electoral process Nigerians have fought hard to establish. 
He challenged those responsible for spreading fake news to question their own actions and motivations.
"Why should a man be desperate for validation? Does truth require validation? Why should you issue a congratulatory statement and attribute it to Atiku if your conscience is not troubled by the electoral heist you have perpetrated," Ibe questioned.
Contrary to the misinformation being circulated, Atiku Abubakar has already instructed his legal team to proceed to the Supreme Court to challenge the decision of the election petition tribunal.
Ibe also pointed out the glaring inaccuracy in the purported message, as it addressed Bola Tinubu as the "President-elect" months after his inauguration.
 He commented, "Though we know it is a pyrrhic victory, is it not ridiculous to still address Bola Tinubu as 'President-elect' five months after swearing-in?"
At the heart of this struggle, as emphasized by Ibe, is not merely about Atiku but about Nigeria and the future of its democracy. Upholding electoral integrity and justice are paramount to safeguarding the democratic process.
 Atiku Abubakar remains committed to this cause and will continue to be an active participant in the struggle to strengthen democracy in the nation.
In closing, Atiku Abubakar urged members of his party to maintain hope and reassured them that the People's Democratic Party (PDP) would remain relevant. He expressed his refusal to accept the tribunal's judgment, citing a lack of substantial justice in the decision.
Do you want to share a story with us? Do you want to advertise with us? Do you need publicity for a product, service, or event? Contact us on WhatsApp +2348183319097 Email: platformtimes@gmail.com