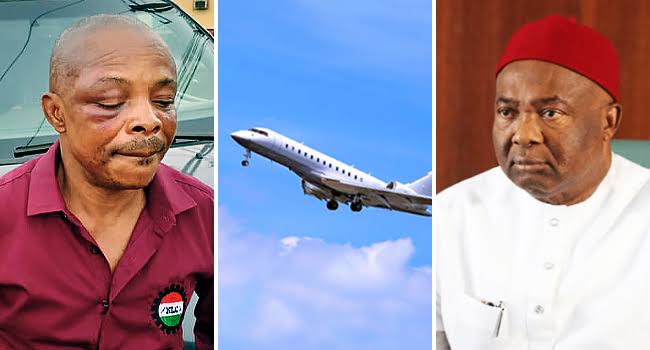 In a decisive and unprecedented move, aviation unions across Nigeria have ordered the suspension of all flights to Owerri, Imo State, with immediate effect. 
This decision, which has sent shockwaves through the aviation industry, comes as a response to the Nigeria Labour Congress (NLC) and Trade Union Congress (TUC) directive regarding the alleged brutalization of NLC President Joe Ajaero in Owerri.
The aviation unions involved in this bold stance include the National Union Of Air Transport Employees (NUATE), Air Transport Services Senior Staff Association of Nigeria (ATSSSAN), Association of Nigeria Aviation Professionals (ANAP), and the National Association of Aircraft Pilots And Engineers (NAAPE).
This united front was conveyed through a joint statement issued by their General-Secretaries, including Comrades Ocheme Aba (NUATE), Frances Akinjole (ATSSSAN), Abdul Rasaq Saidu (ANAP), and Umoh Ofonime (NAAPE).
Moreover, in an act of strong protest, these unions declared Governor Hope Uzodimma persona non grata in all airports across the nation.
The statement reads, "Following the escalation of the imbroglio created by the mayhem unleashed on workers by the Imo State Government of Hope Uzodimma and continued insensitivity of the Government over the matter; and in compliance with the directive of the joint NEC session of the Nigeria Labour Congress (NLC) and the Trade Union Congress of Nigeria (TUC), the above named unions, being affiliates of NLC and TUC, hereby direct all aviation workers (both public and private) to withdraw all services to all Owerri flights (inwards and outwards) from any airport in Nigeria with effect from midnight of 08/11/2023."
This strike action represents a significant show of solidarity with the NLC and TUC, who have been pushing for justice in the wake of Joe Ajaero's alleged brutalization. 
Also, Governor Hope Uzodimma has been banned from entering any airport in Nigeria until the unions are satisfied that he has addressed their concerns.
The aviation workers at the Sam Mbakwe International Cargo Airport in Owerri have also been instructed to stay at home, in alignment with the directives of the NLC and TUC. 
To coordinate this nationwide action, State Councils and union branches are scheduled to meet in Lagos and Abuja today at 5 pm to work out the details of how to implement this directive effectively.
This strike action is indefinite in nature, and its continuation or resolution will be guided by further directives from the NLC and TUC. 
The unions have also announced their intention to leverage their international affiliations to blacklist Governor Hope Uzodimma on a global scale.
"In light of these developments, the management of airports, airlines operating to and from Owerri, travelers with plans to fly to or from Owerri, and the general public have been advised to take note of this situation. It remains to be seen how this unprecedented aviation industry strike will impact the state of affairs in Owerri and beyond."
In a separate development, the Central Bank of Nigeria has issued a directive to its branches across the country, instructing them to continue issuing various denominations of both old and redesigned banknotes to Deposit Money Banks.
Do you want to share a story with us? Do you want to advertise with us? Do you need publicity for a product, service, or event? Contact us on WhatsApp +2348183319097 Email: platformtimes@gmail.com