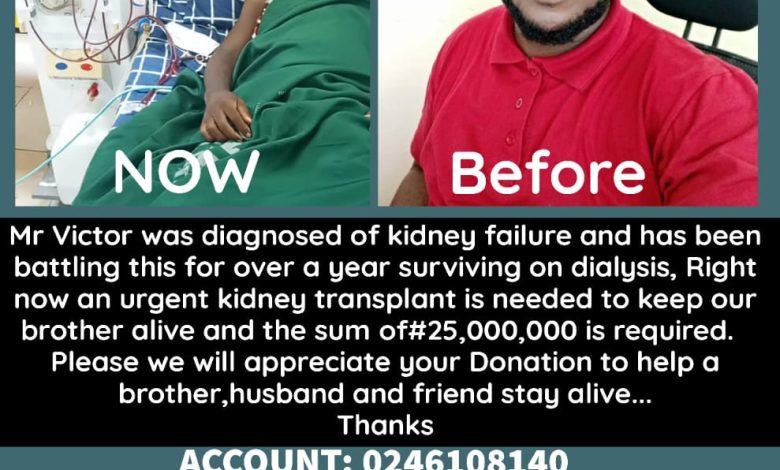 Daud Olatunji
In a heart-wrenching plea for help, Victor Okpapi, a dedicated IT specialist, is reaching out to the compassionate hearts of Nigerians, all levels of government, and corporate organizations as he fights for his life.
Victor's battle is against a debilitating renal condition that has left him reliant on dialysis to survive.
Victor Okpapi, an accomplished Electrical Engineer, had been the pillar of support for his family and a cherished member of his community before his life took a devastating turn.
 He resides at No. 6 Festus Imho Okpapi Street, off Okerube last bus stop, Ikotun, Lagos, Nigeria.
Today, Victor's life revolves around the Dialyzer Specialist Medical Center at 60 Arowojobe Street, Lagos, under the care of the compassionate Medical Director, Dr. Awobusuyi.
 He clings to the hope of receiving a much-needed kidney transplant, as his family's savings and the support of friends and relatives have been exhausted in maintaining his deteriorating health.
Victor's journey to recovery is a costly one, and he desperately needs financial assistance to make it a reality. 
Those willing to contribute to his life-saving kidney transplant can send their support to his Wema/Alat Bank account under the name VICTOR OKPAPI, account number 0246108140. 
You can also reach out to Victor directly through his mobile number at 090086081227.
As Victor Okpapi faces the battle of his life, his plea for assistance echoes through the hearts of the Nigerian community. Together, we can give him the gift of life and hope for a brighter future.
Do you want to share a story with us? Do you want to advertise with us? Do you need publicity for a product, service, or event? Contact us on WhatsApp +2348183319097 Email: platformtimes@gmail.com