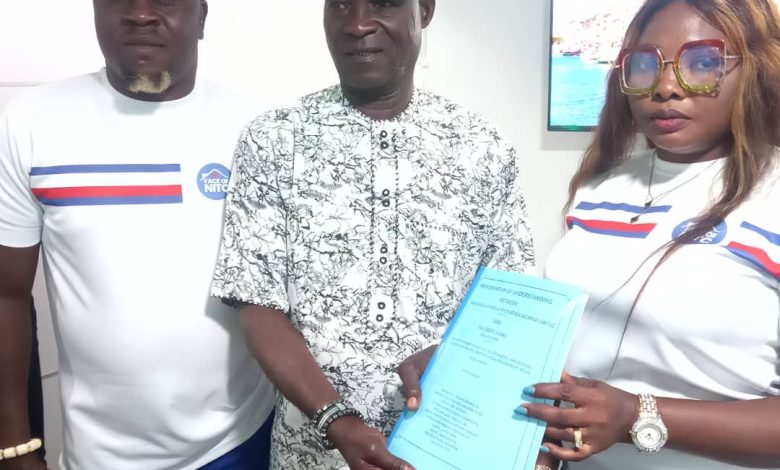 Israel Adeleke
Popular Lagos radio presenter, Mr. Tajudeen Ajani, known as "Ojuelegba" and the host of the renowned program "Edaku Iwa Odaran," has partnered with IAS Unique Homes and Properties.
During his visit to IAS, a company specializing in land and property sales, Ajani finalized an agreement to promote and sell the company's products.
As part of the partnership, he was granted a plot of land and 1,000 blocks to start his foundation, along with 30 plots of land to sell on behalf of the company over the next six months.
Speaking with PLATFORM TIMES after the meeting, Mr. Ajani explained his reasons for choosing to collaborate with IAS Unique Homes and Properties.
He said, "I'm happy and joyful that IAS Company has chosen me as one of their partners to help them sell part of their lands. I'm one of those who advertise businesses and generate significant profits for those who use me as their advocate, just as it aligns with the nature of my work.
"I have chosen to work with IAS Company because they are based on truth and are trustworthy. I collaborate with them because their ways align with the mission of my radio program, 'Edakun Iwa Odaran,' which is also centered on truth and addressing societal issues."
"My program cannot work with anything that is not true and trustworthy, but this organization is trustworthy, so I chose to work with them."
IAS Unique Homes And Properties, a registered property management and real estate agency in Nigeria, specializes in land and property procurement, development, and sales for both commercial and residential purposes. 
They are well-equipped to serve individuals, corporations, private entities, and government organizations at various levels.
Speaking at the meeting, the chairman of IAS Unique Homes and Properties, Mr. Adelani Ayobami, outlined the agreement and Mr. Ajani's role in the partnership.
 He explained that Mr. Ajani is tasked with selling all 30 plots of land given to him within six months, leveraging his popularity.
"You will help us sell 30 plots of land in the space of six months, and it must be completed. 
"We will give you a street, and you can name it after yourself, perhaps Alhaji Tajudeen Ojuelegba Road or Street, Crescent, or Close. 
"We will also provide you with a plot of land in that area and 1,000 blocks to start your foundation."
He emphasized that the key point is to sell all the land within six months, after which Mr. Ajani will receive his percentage of the sales revenue.
Additionally, the CEO of IAS Unique Homes And Properties, Princess Adesewa Adelani, explained their choice of Mr. Ajani for the contract when addressing PLATFORM TIMES.
 She praised his reputation as the presenter of the popular program 'Edakun Iwa Odaran' and emphasized his integrity and dedication to ethical conduct as reasons for their choice.
She said, "Mr. Tajudeen is a good man, and we have heard a lot of good things about him. So, we felt he is the right man for the job because the nature of his program condemns bad acts in society, showing that he is a good man."
Finally, Mr. Tajudeen Ajani sealed the partnership by officially signing the contract with the organization and pledged to fulfill its terms.
Do you want to share a story with us? Do you want to advertise with us? Do you need publicity for a product, service, or event? Contact us on WhatsApp +2348183319097 Email: platformtimes@gmail.com