Israel Aderoju 
In a state of uncertainty, Ogun schools are grappling with confusion as teachers abandon academic duties due to the ongoing strike by the Nigeria Labour Congress (NLC) and Trade Union Congress (TUC). 
Students left clueless, stranded on school premises until late afternoon.
Amid the nationwide strike declared by the Nigeria Labour Congress (NLC) and Trade Union Congress (TUC), schools in Ogun State face a state of confusion as academic activities come to a standstill.
Students and teachers found present, yet no teaching or learning taking place, leaving students in the dark.
PLATFORM TIMES  gathered firsthand information from various schools in the capital city of Abeokuta to shed light on the unfolding situation.
African Church Grammar School,Gates Locked, Students Roaming
PLATFORM TIMES visited African Church Grammar School, Ita Iyalode, where the main gate was securely locked, allowing only the pedestrian gate for students to enter and exit freely.
Students were seen wandering aimlessly around the school premises, highlighting the disarray caused by the strike.
Gateway Secondary School: Partially Opened Gates, Students Leaving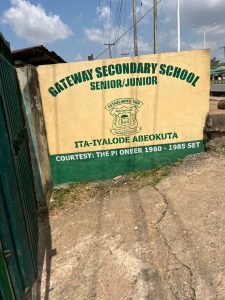 Moving on to Gateway Secondary School, Ita Iyalode, Platform Times confirmed the absence of academic activities.
The school gate was only partially opened, and students were observed leaving the premises throughout the day.
Macjob Grammar School, Onikolobo: Deserted Premises, Students Sent Home
At Macjob Grammar School, Onikolobo, the school compound appeared nearly vacant, indicating that students had been discharged to go home. A teacher, initially reluctant to disclose information, later confirmed strike activities in the school, with students instructed to leave.
St. Paul Onikolobo: Empty Classrooms, Students Left Unattended To 
The situation at St. Paul Onikolobo mirrored that of Macjob, with an absence of teachers and a significant number of students playing outside. Those who remained disclosed to Platform Times that no academic activities took place, and they left the school earlier than usual.
Teachers Confirm Strike, Students Urge Clarity
In an interview with a teacher at African Church Grammar School, confirmation was received that the school observed the strike, allowing students to go home if they wished.
Similarly, students at Gateway Secondary School expressed frustration, stating that they had been at school since the usual resumption time without receiving any attention from their teachers.
PLATFORM TIMES spoke to a teacher at Macjob Grammar School who initially withheld information but later confirmed th  strike activities.
Students at St. Paul Onikolobo, Abeokuta, left unattended to, pleaded for communication from school authorities to avoid wasting their time, energy, and money on futile trips to school.
Do you want to share a story with us? Do you want to advertise with us? Do you need publicity for a product, service, or event? Contact us on WhatsApp +2348183319097 Email: platformtimes@gmail.com