Fawaz Adebisi
The Customs Officers Wives Association, COWA, has pledged to support wives of fallen heroes, who died in service, adding that it aims to equip 1,200 members to be financially stable by 2024.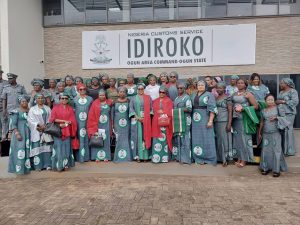 The COWA made this known in a press briefing, on Friday, during it's courtesy visit to Ogun Area Command, Nigeria Customs, Idi Iroko, Ogun State.
During the briefing, the COWA president, Kikelomo Adeniyi outlined several initiatives aimed at supporting the families of fallen officers and enhancing the lives of the association's members.
Adeniyi stressed that not only the wives would benefit but their children, who would be given proper education and training.
The association therefore gave souvenirs, which included food items, to eleven wives, Mrs Igodo Sarah, Mrs Ajiboye Iyabo, Mrs Ogunyemi Hannah, Mrs Mariam Adamu, Mrs Christiana Adamu, Elizabeth Abey among others, who lost their husbands in service.
In the same vein, she said the association is working on starting the COWA Nursery and Primary School, and COWA Secondary School to enable us provide good, qualitative and affordable education to our children, and reduce the financial burden on Customs officers who pay exorbitant fees to educate their children in private schools. 
She said, "Our focus in this regard is to provide educational support and scholarships to the children through the payment of school fees, and vocational empowerment of the bereaved wives to make them self-reliant."
Also, Adeniyi campaigned against drug abuse as she promised to concentrate on sensitizing youths in order to kick them off drug abuse.
She therefore appealed for financial support for these programs from their husbands and heads of households, assuring them of prudence and accountability in managing the resources.
She also urged Nigerians who engage in smuggling activities to desist from such criminal acts and encouraged COWA members to work with leaders of border communities to reduce smuggling activities.
In the same vein, she appealed to all officers from the rank of ASC II to allow their wives join COWA and encourage them to participate in the activities of the Association.
Do you want to share a story with us? Do you want to advertise with us? Do you need publicity for a product, service, or event? Contact us on WhatsApp +2348183319097 Email: platformtimes@gmail.com