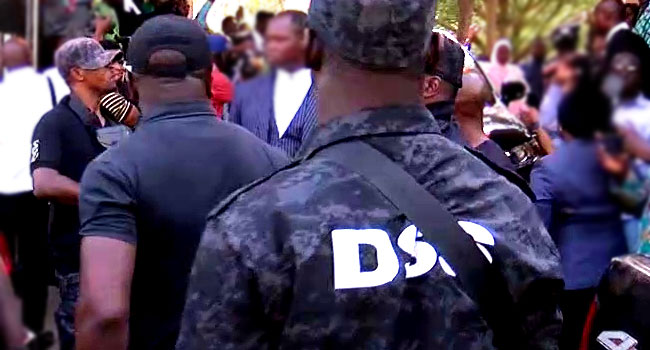 Daud Olatunji
As the clock ticks down to the highly anticipated November 11, 2023 governorship elections, the Department of State Services (DSS) has issued a stern caution to politicians, urging them to refrain from making provocative comments that could jeopardize public peace.
Expressing concern over the escalating trend of incendiary remarks from influential figures and representatives of non-governmental entities, DSS spokesperson Peter Afunanya emphasized the detrimental impact such statements could have on social harmony and national stability.
"In the aftermath of the elections and the associated legal disputes, it is imperative that we move forward in nation-building with unity and devoid of discord. Reckless rhetoric has the potential to incite social unrest, posing risks to the overall well-being and safety of citizens," stated Afunanya.
The DSS specifically called upon key players and their supporters in Kogi, Imo, and Bayelsa States to adhere strictly to the rules of engagement and electoral laws during the upcoming gubernatorial elections.
The objective is to prevent any circumstances that may undermine the electoral processes.
Acknowledging ongoing collaboration with the Independent National Electoral Commission (INEC), sister security agencies, and relevant non-governmental organizations, the DSS aims to ensure seamless and trouble-free exercises in the affected states.
In a broader plea, the DSS implored all stakeholders, regardless of their political affiliations or grievances, to engage in conversations that foster collective understanding and contribute to the nation's unity.
As the electoral atmosphere intensifies, the agency emphasizes the need for responsible rhetoric to safeguard the harmony of the nation.
Do you want to share a story with us? Do you want to advertise with us? Do you need publicity for a product, service, or event? Contact us on WhatsApp +2348183319097 Email: platformtimes@gmail.com