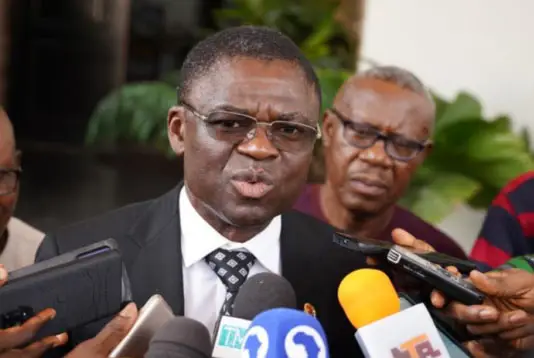 Daud Olatunji
In a surprising turn of events, Deputy Governor Philip Shaibu of Edo State issued a heartfelt apology to Governor Godwin Obaseki, marking the end of a prolonged dispute. Shaibu's apology came in the wake of his investiture by the Catholic Men Organisation Nigeria (CMN) and was accompanied by a plea for forgiveness.
Speaking to reporters immediately after the investiture, Shaibu expressed his sincere regret and urged Governor Obaseki to forgive and forget. He also announced his compliance with the governor's directive by relocating to his new office.
However, Shaibu acknowledged that there was still much work to be done at his new office, situated at 7 Osadebey Avenue. When asked if he had already resumed work in his new office, he replied, "We have resumed, but there is still a lot of work to be done there."
He continued, "There is no problem about it. The governor has asked us to go there. Like I have always tried to prove, I am a loyal servant, and nothing has changed. I took a personal vow to support my governor, and you can see my Catholic people are here. 
"When I made a vow with God, nothing can change it, and I wish that the relationship we had will be restored in the next few days and weeks."
Expressing his longing for a positive reconciliation, Shaibu concluded, "I am missing my governor, and by the grace of God, He will touch the governor's heart and bring us all back together, even those who stood between us.
" I mean well. If there is any mistake I have made as a human, it is not out of wickedness because I know I'm not wicked. I have a very clean heart."
In a final plea, he used the medium to appeal to Governor Obaseki, saying, "I want to use this opportunity to appeal to Mr. Governor that if there is anything I am unaware of that I have done wrong, please forgive me so that we can work together to develop our state."
Do you want to share a story with us? Do you want to advertise with us? Do you need publicity for a product, service, or event? Contact us on WhatsApp +2348183319097 Email: platformtimes@gmail.com