News
Educationist, Afe Babalola Laments How Politics Has Corrupted Nigerian Youth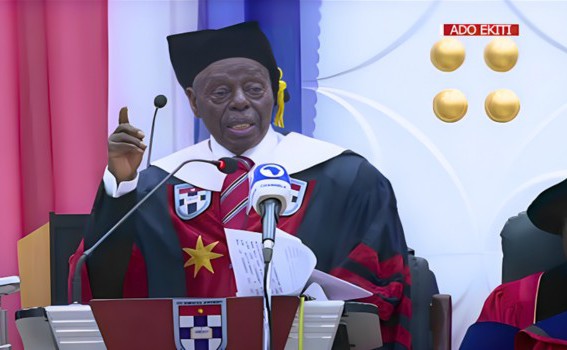 Fawaz Adebisi
The founder of Afe Babalola University, Ado-Ekiti (ABUAD), Afe Babalola, has expressed his dismay over how politics has corrupted the minds of Nigerian youth and made them lose interest in education.
Speaking at the 11th convocation ceremony of his university on Saturday, Babalola said that politics has become the only lucrative business in Nigeria, while education is gradually being relegated to the background.
He narrated how a first-class graduate of chemistry from the University of Lagos rejected his offer of a scholarship for a Ph.D. because he wanted to go into politics, having seen his secondary school mate who did not go to a higher institution achieve material success as a local government chairman.
"He said, 'My colleague who was in class with me in secondary school did not go to university; he is the chairman of the local government of my place. He is riding a car; he has a house.' I was depressed.
"I said, 'What do you want to do now?' He said, 'I want to go into politics.' I wept inside me. That is what your country has made of Nigeria. The only business in this country today which is lucrative is politics," Babalola said.
He said that politics should be about service, not about making money from public funds.
He also stressed that Nigeria's problem is lack of leadership and quality education.
He therefore urged the youth to pursue knowledge and power through education, rather than through politics.
Do you want to share a story with us? Do you want to advertise with us? Do you need publicity for a product, service, or event? Contact us on WhatsApp +2348183319097 Email: platformtimes@gmail.com