Fawaz Adebisi
In a heartwarming display of generosity, Modupe Idowu, a dedicated alumna of St James African Church Nursery & Primary School, has made a significant contribution to the education of the current pupils.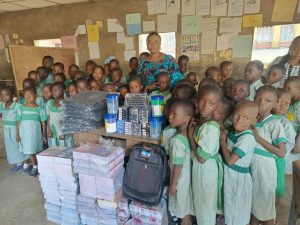 Mrs. Idowu, a retiree from the Ministry of Information in Ogun State, returned to her alma mater, on Wednesday, to donate essential school materials, including notebooks, mathematical sets, pens, and school bags.
PLATFORM TIMES gathered that the gesture was done In collaboration with her niece, Mrs Oluwatosin Awonuga, CEO Tosfun Cake in commemoration of her 40th birthday coming up in October 6, 2023.
In an interview, Mrs. Idowu shared her motivation behind this thoughtful gesture.
She highlighted the importance of not forgetting one's roots and the pivotal role her primary school education had played in her life.
She revealed that this was not her first time giving back to the school;recalling that, during her 50th birthday, she had funded the construction of a toilet facility for the institution.
Additionally, Mrs. Idowu mentioned that her cousin, Oluwatosin Awonuga, residing in the United States, had also contributed to this initiative.
Together, they aimed to make a difference in the lives of the less privileged children who couldn't afford school supplies.
She urged other alumni to follow suit, emphasizing that collective efforts were crucial in supporting education, especially when government resources alone couldn't suffice.
Looking forward, Mrs. Idowu expressed her commitment to continue assisting her alma mater, promising to host a Christmas party for the students in December
She spoke with PLATFORM TIMES shortly after the distribution of the materials including cash gift to overall students in each category.
She said " I am Modupe Christiana Idowu, a retiree from the Ministry of Information in Ogun State,'this is not my first time, and this is my primary school where I finished in 1980.
" I've just realized that no matter who you become, you should not forget your roots. If I've been able to achieve anything, it's thanks to my primary school, and going back to affiliate with them is something I truly cherish.
"When I marked my 50th birthday, I was here to build a toilet for them. Given the situation in the country, there are many children whose parents cannot afford to buy bags and other instructional materials. Education is the foundation of life.
"So, I thought, let me come; I'm not the only one doing this. I have a sister in America, Oluwatosin Awonuga, who will be 40 by October, and she donated some of these gifts. She has seen me doing these things and told me that anytime I want to do it, she would like to be a part of it. I'm happy to give a little, and I promise that if God allows, I will give more.
Come December, I will be going to the leper colony to hold a Christmas party with them. I've promised them that every year, that's what I will be doing for them. It's my duty to be with children – providing big notes, mathematical sets, pens, and bags.
" Remember, never forget your roots. Remember to go back there because that's your foundation. Whatever you become, give back to your society; that's the main thing. If each of us can do this, we will have a better country because the government alone cannot do it.'
The Head Teacher of St James African Church Nursery & Primary School, Mrs. Folorunsho Abioye, expressed her gratitude for this noble act.
She acknowledged that many of their young learners were facing challenges in obtaining basic writing materials since the resumption of classes.
Mrs. Abioye emphasized the positive impact of Mrs. Idowu's donation, stating that it would significantly boost the academic performance of the students.
She said "it has been a wonderful gesture and a helping hand because most of the pupils don't even have writing materials since we resumed.
"But we thank God that in times like this, there is a humanitarian who remembers the children. It goes a long way in improving their academic performance. To other alumni, we are eagerly expecting your support.
" We know that doing this will boost the morale of the learners and inspire them to become great in life, so we are looking forward to your participation.'"
PLATFORM TIMES further observed that the dedication of Mrs Idowu serves as an inspiring example of how individuals can positively impact their communities and provide opportunities for a brighter future for the younger generation.
As the school eagerly anticipates the involvement of more alumni, Idowu's charitable acts stand as a testament to the enduring connection between individuals and their educational roots, reminding all that giving back is a duty we all share.
She submitted once again, "other alumni should know that whatever you are, don't forget your root, remember to come there because that is your root, whatever you may be, give back to the society."
Do you want to share a story with us? Do you want to advertise with us? Do you need publicity for a product, service, or event? Contact us on WhatsApp +2348183319097 Email: platformtimes@gmail.com