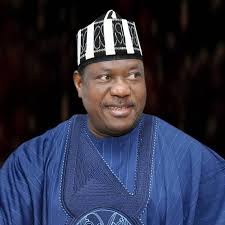 Daud Olatunji
In a major budgetary move, the Federal Government of Nigeria is set to allocate a staggering N7.76 trillion for salaries, non-debt recurrent costs, and more in 2023. 
This significant financial commitment follows recent agreements with the Labour Congress and the unveiling of a supplementary budget to cover new expenses.
The supplementary budget, which amounts to N2.18 trillion, includes provisions for an agreed wage increase for workers, necessitated by the removal of the fuel subsidy. 
Minister of Budget and Economic Planning, Abubakar Bagudu, highlighted key allocations, with N605 billion dedicated to national defense and security, N300 billion for bridge repairs and road construction, and a substantial N210 billion for wage awards.
The wage awards, resulting from negotiations with the Nigeria Labour Congress, will see approximately 1.5 million federal government employees receiving N35,000 each for the months of September, October, November, and December 2023.
The budget's appropriation details reveal N1.01 trillion for recurrent expenditure and N1.17 trillion for capital expenditure. With the supplementary budget, non-debt recurrent expenditure is expected to reach N7.76 trillion, while capital expenditure will stand at N4.53 trillion.
 This expansion raises the total budget for 2023 to N19.81 trillion, with a debt-free budget of N13.26 trillion.
A significant portion of the N7.76 trillion non-debt recurrent expenditure, specifically N4.31 trillion (55.54%), will be channeled towards salaries. As of the 2023 Q1 implementation report, the government has already expended N978.10 billion on salaries.
 Additionally, N1.24 trillion has been allocated to non-debt recurrent expenditure, and N175.45 billion for capital expenditure.
The government's reliance on borrowing is evident, with N2.30 trillion already borrowed to finance the budget. Prior to the supplementary budget's approval, a predicted fiscal deficit for the year stands at N9.01 trillion. 
The government, facing increasing expenditure costs alongside declining revenues, is grappling with economic challenges.
Accountant General of the Federation, Mrs. Oluwatoyin Madein, expressed concern over the revenue shortfall, emphasizing the need to enhance revenue generation strategies to meet the nation's financial expectations. 
Nigeria's ongoing revenue crisis is exacerbated by falling oil production and the persistent challenge of diversifying the economy.
Do you want to share a story with us? Do you want to advertise with us? Do you need publicity for a product, service, or event? Contact us on WhatsApp +2348183319097 Email: platformtimes@gmail.com