The Federal Government, in collaboration with the Ogun State Ministry of Industry, Trade, and Investment, is gearing up to unleash the full potential of cashew production and its value chain. 
Strategies and initiatives were unveiled during a pivotal one-day stakeholder interaction, hosted by the Nigerian Export Promotion Council (NEPC) and Ogun State Ministry of Industry, Trade, and Investment.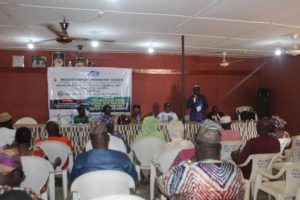 This event, themed "Cashew Value Chain Global Best Practices – Paving the Way for Export Excellence," took place in Imasayi, Yewa North Local Government area of Ogun State.
The Permanent Secretary of the Ministry, emphasized the imperative of diversifying Nigeria's economy away from overreliance on crude oil. Cashew, designated as one of the state's champion products under the One-State, 
One-Product (OSOP Initiative), was in the spotlight. Aikulola underscored the significance of this gathering in identifying challenges faced by cashew farming and processing and addressing interventions. Additionally, it served as a platform to update stakeholders on international market requirements for cashew exports.
The Permanent Secretary highlighted the state's commitment to creating a conducive environment for business growth, emphasizing Yewa North Local Government's distinctive advantage in cashew production. 
He stated, "What we are doing today is one of the interventions to teach farmers the strategies to make the best of cashew planting and production, so they can maximize value addition and reap the benefits."
Aikulola's vision for the near future was clear: "We hope this stakeholders meeting will be more impactful in making farmers more aggressive in cashew production. 
The important thing is that in the next one year, we would have moved from point A to point B in the production and value addition of cashew, not only in Imasayi or Yewa North Local Government Area but in Ogun State at large."
The Coordinator of the Nigerian Export Promotion Council (NEPC) in Ogun State, Mrs. Francisca Odega,emphasized the strategic importance of the cashew sector in economic diversification. 
She called upon farmers, processors, and aggregators to stay informed about evolving international market requirements for cashew exports. 
Odega stressed the need for collective efforts to ensure that Ogun cashew products not only compete but become sought-after in the global market.
The Olu of Imasayi, Oba Lukman Adeleke, expressed gratitude for the government's renewed commitment to reviving cashew production in the state. 
He pledged that, with proper funding for cashew farmers, his locality could produce a staggering 20,000 metric tons of cashew annually.
This crucial meeting saw participation from representatives of the Federal Ministry of Agriculture and Food Safety, the National Cashew Association of Nigeria (NCAN), cashew farmers, processors, aggregators, and other key stakeholders.
Do you want to share a story with us? Do you want to advertise with us? Do you need publicity for a product, service, or event? Contact us on WhatsApp +2348183319097 Email: platformtimes@gmail.com