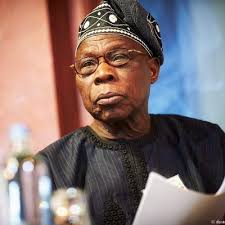 Daud Olatunji
Former President Olusegun Obasanjo delivered a compelling message on Wednesday, emphasizing the necessity for African leaders to discover homegrown solutions to the manifold challenges facing the continent. 
During a gathering with a delegation of students and youth representatives from various African countries at the Olusegun Obasanjo Presidential Library (OOPL) in Abeokuta, Ogun state, Obasanjo asserted that there is no obstacle too great for Africa to overcome.
The distinguished visitors, including student leaders from Ethiopia and the Tigray Region, were led by the President of the All-Africa Students Union (AASU), Osisiogu Osikenyi. 
Their visit was an expression of gratitude to Obasanjo for his pivotal role in facilitating the Permanent Cessation of Hostilities Agreement between the government of the Federal Republic of Ethiopia and the Tigray People's Liberation Front (TPLF) in Pretoria the previous year.
Obasanjo underscored the importance of taking into account Africa's unique characteristics when crafting and implementing viable, locally rooted solutions to the challenges that beset the continent.
 He commended the African Union (AU) for setting a precedent by resolving the Tigray-Ethiopia civil war through homegrown means.
The former President remarked, "It is a great lesson for us to know that whatever may be our problem—whether political, economic, or social in Africa—we can solve them if we seek solutions with the right approach. 
What is vital, and I implore you to take this very seriously, is that what we achieved in Tigray—the peace we established between TPLF and the Federal government of Ethiopia—is what we can call an African solution to an African problem, something our leaders have advocated for since the early 1960s."
Obasanjo also expressed confidence that no issue in Africa is insurmountable, be it related to peace, security, youth unemployment, empowerment, skills acquisition, frustration, or governance.
In response, the President of the Ethiopian Higher Education Institutions Students Union (EHEISU), Oli Bedane Wako, conveyed gratitude on behalf of African student leaders for Obasanjo's instrumental role in the historic signing of the Pretoria peace agreement between the Federal Republic of Ethiopia and Tigray Liberation Fronts.
Wako acknowledged the devastating impact of the war in the Tigray region of Ethiopia, which claimed numerous lives and left extensive destruction and trauma in its wake. 
He credited Obasanjo's initiative with saving lives and providing a foundation for the reconstruction of the war-torn Tigray region.
In his words, "Baba, we extend our heartfelt appreciation for your unwavering commitment in brokering the peace agreement in Ethiopia. 
Your contributions have brought a new sense of hope to our people, and we stand here today, forever grateful for your remarkable efforts. 
However, even as the sounds of gunfire have ceased, the suffering continues in Tigray. 
The situation is dire. Starvation persists, schools and healthcare facilities stand in ruins, and our education system faces unprecedented challenges. 
It is with humility that we approach you today, seeking your continued assistance."
Do you want to share a story with us? Do you want to advertise with us? Do you need publicity for a product, service, or event? Contact us on WhatsApp +2348183319097 Email: platformtimes@gmail.com