Daud Olatunji
The Recycling Waste to Wealth (ReW) Challenge, an initiative aimed at turning waste into economic opportunities, is taking Ogun State by storm. 
The project, which was initiated through the International Visitors Leadership Program (IVLP) Impact Award and funded by the U.S. Department of State's Bureau of Educational and Cultural Affairs, is gaining momentum as it expands to include a broader audience and a creative theme.
In its inaugural year, the ReW Challenge concentrated its efforts on Government Science and Technical Colleges, resulting in the establishment of Entrepreneurship Clubs in all eight participating colleges. 
The project has been executed in partnership with the Meridian International Center, further enhancing its impact.
However, the ReW Challenge is now spreading its wings, transforming into a state-wide enterprise essay competition.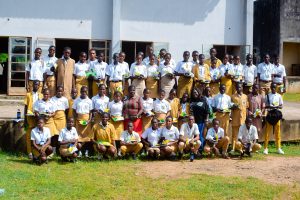 This expansion will welcome senior secondary school students across Ogun State to participate, broadening the scope of the initiative.
The theme of this year's competition is "ART AS A VEHICLE FOR WASTE MANAGEMENT."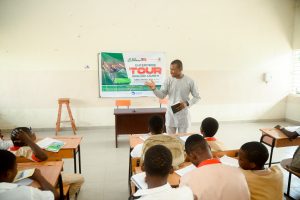 This creative approach encourages students to explore innovative ways to combine artistic expression with sustainable waste management practices. 
It not only promotes environmental conservation but also showcases the potential for turning waste materials into valuable resources.
One of the most exciting components of this expanded challenge is the upcoming enterprise tour. 
The tour will encompass visits to all eight technical colleges in Ogun State, and it will bring together 400 students who will be divided into eight teams, each representing a different college. 
The objective of the tour is to equip students with the knowledge and skills required to initiate and run small businesses based on their waste-to-wealth ideas. 
This practical exposure is expected to empower young minds and encourage entrepreneurship in the region.
The culmination of the ReW Challenge will be a two-day enterprise summer camp, an exclusive opportunity for the top essay writers and selected teachers. 
This camp will offer a platform for the most promising young talents to further develop their entrepreneurial skills and interact with experienced mentors.
As the Recycling Waste to Wealth challenge continues to grow and inspire young minds in Ogun State, it serves as a testament to the power of education, creativity, and sustainability. 
With a focus on turning waste into wealth, the students of Ogun State are not only embracing recycling but also nurturing their potential as future entrepreneurs, contributing to a cleaner and more prosperous future.
Do you want to share a story with us? Do you want to advertise with us? Do you need publicity for a product, service, or event? Contact us on WhatsApp +2348183319097 Email: platformtimes@gmail.com