News
Global Handwashing: NGOs Conduct Free HIV, Tuberculosis, Other Tests For Ogun Traders
Israel Adeleke
To commemorate this year's 2023 Global Handwashing Day, some Non-Governmental Organizations – the Patriots For Community Wellness And Values (TPCWV), The Standard Bearers (TSB), and APIN Public Health Initiatives – have conducted free HIV, Tuberculosis, and Blood Pressure (BP) tests for the Market Women of Gbangba in Ogun State.
The purpose of the program is to educate the traders on the importance of hygiene and the reasons they should regularly conduct tests on their health to determine their health status.
Speaking with PLATFORM TIMES at the program, the Chief Executive Officer (CEO) of TPCWV, Semiu Adesanya, explained that the organizations collaborated with TSB and APIN to educate the traders on how to wash their hands, as it is celebrated worldwide, and to provide free health check tests for them.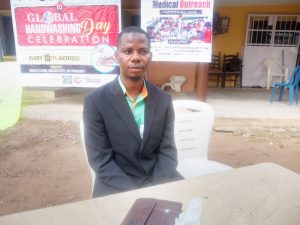 He further explained that the organizations are non-governmental organizations, even though they are registered under the Ministry of Health in the state.
In the same vein, the chairman of TSB, Taofeek Adebisi Anifowose, said the organizations are doing this to help the market women understand the risks of not washing their hands after handling unsanitary tasks before attending to customers.
"Some of these market women have limited knowledge about hygiene, as they may finish washing their child's bottom and then use their hands to handle goods for customers."
"We will educate them and provide free health tests," he added.
The Balogun of Ijaiye, Are of Egbaland, Alhaji Ganiu Babayeju, who also benefited from the free tests, praised the organization for bringing this program to Ijaiye Land.
He said, "Many of us may not be medically okay, and we may not even know it. But this program has helped us discover our health status. If anything is wrong, we will know, and a quick solution will be provided.
"The organization did not collect money from any of us, and we appreciate their efforts."
The Iyaoloja of Ijaiye Land, Alhaja Abibat Akanbi, expressed her gratitude to the organizations, saying, "The tests they provided are usually costly if done elsewhere, but this organization offered them to us for free. We appreciate their generosity, and may God continue to bless them."
She also urged the organizations to continue bringing programs like this to them so that they can benefit from them.
One of the market women at Gbangba in Ijaiye, Mrs. Oyekunle Zainab, explained how she took all three free tests.
She said, "I took all three free tests. First, I did the Blood Pressure test, then the HIV test, and finally, the Tuberculosis test, which went well."
She expressed her appreciation for the organizations and acknowledged that these tests would have been expensive if done in a hospital. She prayed for the organizations' continued success in helping people.
Likewise, one of the beneficiaries, Fagbohun Sinat, who is not a market woman but a customer, explained how she learned about the program. She mentioned that she heard about it from one of the sellers in the market.
She expressed her happiness at being able to participate in the free program and shared a scenario when she had to pay for a BP test in the past.
However, she was thrilled to have these tests done for free.
Do you want to share a story with us? Do you want to advertise with us? Do you need publicity for a product, service, or event? Contact us on WhatsApp +2348183319097 Email: platformtimes@gmail.com