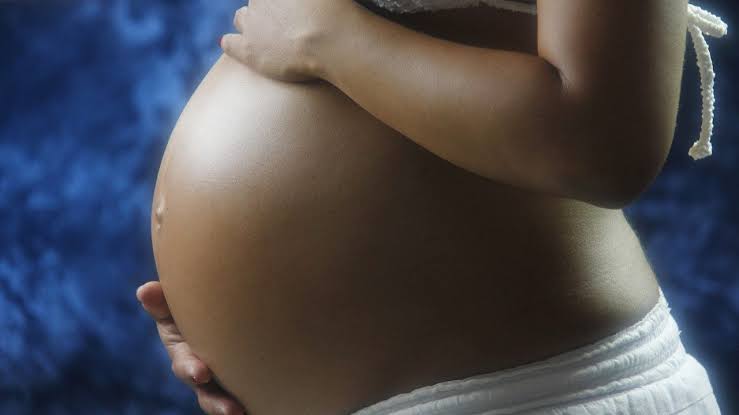 Daud Olatunji
In a desperate cry for assistance, Temitayo Ajala, a resident of Idi-Iroko in Ogun state, shares her agonizing journey of carrying a pregnancy for an unprecedented six years. 
Fighting against the odds, she implores the public to come to her rescue, fearing for her life and the life of her unborn child.
While speaking on a popular Yoruba radio programme by a radio presenter, Makinde Fasunle, Temitayo recounts her shattered expectations of a normal pregnancy and delivery, only to find herself trapped in a nightmarish ordeal.
Despite exhausting all means, including visits to various places, churches, and consultations with Islamic clerics, the elusive solution remains out of reach.
With tears in her eyes, Temitayo opens up about the physical and emotional torment she endures daily.
Pervasive pain courses through her body, robbing her of sleep and appetite.
She describes the burden of shame she carries, unable to walk for more than a few minutes without exhaustion, hiding away from the judgmental gazes and comments of her community.
PLATFORM TIMES gathered that this is not Temitayo's first pregnancy; she already has two boys.
However, the third pregnancy has stretched over six agonizing years, leaving her physically debilitated and emotionally scarred.
The toll it has taken on her family is immeasurable, having lost her father to the same struggle.
Desperation led them to sell off properties, lands, vehicles, and everything they owned, all in an attempt to find a cure for Temitayo's condition.
"I walk about with shame, unable to move freely due to the judgmental eyes of the community.
I relocated to escape the constant scrutiny, as people pass comments, describing me as the woman with the long pregnancy," she tearfully admitted.
Temitayo's journey has been marred by tragedy and loss.
She said that  her parents, the pillars of her support, are no more.
She lamented that her father succumbed to the very problem that now plagues her.
According to her, the family exhausted all resources, selling off lands, vehicles, and any valuable possessions they had to seek a solution for Temitayo's condition.
Adding to the torment, her husband, who should have been a source of strength, deserted her in the midst of this harrowing situation.
"I have sold everything I have. My husband has deserted me with this condition," she revealed, her voice breaking with a mixture of sadness and frustration.
Now, facing the prospect of an operation that she cannot afford, Temitayo turns to the world, pleading for prayers and financial support to undergo the necessary medical procedure that might save her life and that of her unborn child.
The statement of Temitope who spoke  in Yoruba language  on a popular Yoruba programme by Makinde Fasunle  is hereby reproduced : "I am Temitayo Ajala from Idi-Iroko, Ogun State.
"I am seeking the world's help as I have been pregnant for six years, facing serious health issues.
"I urgently need public assistance to save my life. I don't want to die with this pregnancy.
"I implore everyone to rise up and support me.
"I conceived like any other woman, expecting a normal delivery, but it hasn't happened. Despite trying various means, visiting churches, consulting Islamic clerics, and spending significant money, there's been no positive outcome.
"This has been going on for over six years. I already have two boys, and this would be my third child.
"I am experiencing severe pain throughout my body, sleeplessness, and difficulty eating. I walk with shame, unable to move freely in the community due to people's judgmental comments about my prolonged pregnancy.
"My family has made sacrifices, selling properties, lands, vehicles, and more to address this issue. Unfortunately, my father passed away due to this problem.
"Regrettably, my husband has abandoned me in this condition.
"I request prayers from everyone. The option of an operation has been suggested, but I cannot afford it."
Do you want to share a story with us? Do you want to advertise with us? Do you need publicity for a product, service, or event? Contact us on WhatsApp +2348183319097 Email: platformtimes@gmail.com