Daud Olatunji
In celebration of the 2023 World Savings Day, the Nigeria Deposit Insurance Corporation (NDIC) collaborated with the Ogun State Government to impart financial literacy skills to over 400 secondary school students in Abeokuta.
 Held at Lisabi Grammar School,Abeokuta, Ogun State capital,under the theme 'Conquer Your Tomorrow Through Savings,' the event aimed to instill a savings attitude in youth, emphasizing the importance of early financial literacy.
Representing the NDIC's commitment to Corporate Social Responsibility (CSR), the Controller of the Abeokuta Zonal Office, Mr. Mohammed Lawal, highlighted the programme's objective of catching young minds and fostering financial literacy.
 Lawal who was represented by Principal Manager, Bank Examination, Mr. Elvis Oyakhilome, expressed confidence that the benefits of the programme  would extend beyond the students, positively impacting attendees of all ages.
Commending the initiative, Mrs. Bosede Ogunleye, the Permanent Secretary of the Ministry of Education, Science, and Technology, emphasized the pivotal role savings play in shaping a positive future for students. 
She encouraged learners to cultivate the habit of saving from a young age, considering it an essential principle on their journey to success.
The technical session of the workshop delved into various aspects of financial management, teaching students about different methods of saving and the associated benefits.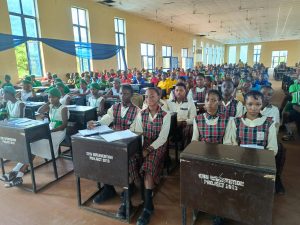 Covering fundamental economic principles such as wants, scarcity, and scale of preference, the training aimed to equip students with a holistic understanding of financial responsibility.
Incorporating elements of practicality, the programme  urged students not only to absorb the knowledge presented but also to apply it in their lives. 
With a focus on "catching them young," the NDIC's commitment to financial literacy in Ogun State contributes to building a generation with a robust foundation in financial management.
Do you want to share a story with us? Do you want to advertise with us? Do you need publicity for a product, service, or event? Contact us on WhatsApp +2348183319097 Email: platformtimes@gmail.com