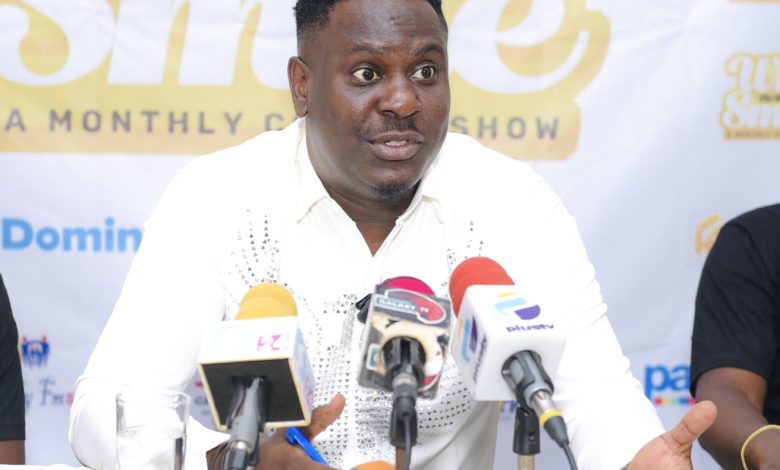 Daud Olatunji
 In a press conference held today, the charismatic comedian, Olamilekan Abegunde, popularly known as Dr. Smile, announced the much-anticipated return of comedy to the heart of Abeokuta with his latest creation, "Why Not Smile." 
The monthly comedy show is set to take place on Sunday, November 12, at the New Marquee, OOPL, Abeokuta, and is poised to deliver laughter, entertainment, and unity in the region.
Dr. Smile, with a bright and infectious smile on his face, expressed his delight in bringing back comedy to Ogun State, a state that once was a hotspot for entertainment events in the SouthWest region. 
He highlighted the show's mission to give people a reason to smile, even in the face of challenging national circumstances.
"Why Not Smile" brings together a stellar lineup of A-list standup comedians from the Nigerian comedy industry, including Seyi Law, Josh 2 Funny, KennyBlaq, Larry J, Mario Hephta, and MC Youngpro, among others. 
Dr. Smile emphasized the importance of humor in uniting people and breaking down barriers, especially in a world facing various challenges and stresses.
The comedy show represents a relaunch of Dr. Smile's brand, following the suspension of the "Dr. Smile Unusual" show a few years ago. Dr. Smile's vision for "Why Not Smile" is to provide an avenue for people to find joy and laughter, particularly in the face of economic difficulties, rising currency exchange rates, and an increasingly challenging cost of living.
During the press conference, Dr. Smile passionately shared his concerns about the lack of support from the Ogun State government for the entertainment industry, which has hindered its growth. 
He called for the government to create a conducive environment for the industry to thrive, stressing the economic potential and job creation capabilities it holds.
Dr. Smile also called on the government to establish an annual carnival in Ogun State, which would not only promote unity but also provide a platform for established players in the entertainment industry to empower and uplift upcoming talents.
 He urged the government to prioritize the entertainment sector, emphasizing its potential to generate significant revenue and reduce unemployment among the youth.
The comedian expressed his gratitude to the sponsors who made "Why Not Smile" possible and invited the public to mark their calendars, share the news with friends, and prepare for a night of uproarious entertainment at the comedy show. Dr. Smile's hope is to build a community of comedy lovers who can come together, share laughter, and create lasting memories.
In closing, Dr. Smile encouraged everyone to attend the show, promising that "Why Not Smile" will bring much-needed laughter and unity to Ogun State and the SouthWest region.
As the anticipation builds, all eyes are on the New Marquee, OOPL, Abeokuta, where the stage will be set for a night of smiles, laughter, and unforgettable entertainment on Sunday, November 12. Why not smile? Why not Dr. Smile? When you think of laughter, think of Dr. Smile.
Do you want to share a story with us? Do you want to advertise with us? Do you need publicity for a product, service, or event? Contact us on WhatsApp +2348183319097 Email: platformtimes@gmail.com