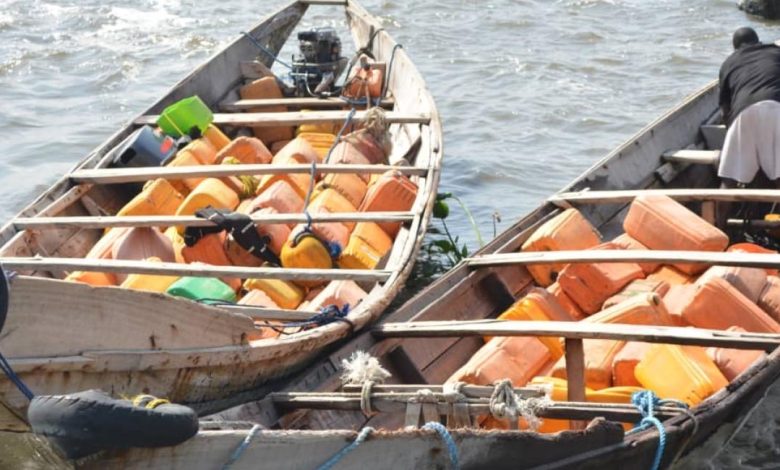 Daud Olatunji
 In a daring operation, the Nigerian Navy Beecroft patrol team intercepted 500 jerrycans filled with 25,000 liters of stolen petroleum in the Badagry area of Lagos State. 
This significant seizure, executed around 2:30 AM on Friday, underscores the Navy's unwavering commitment to safeguarding the nation's waters.
According to an official statement released on Friday, the perpetrators attempted to evade capture by jumping into the water upon detecting the Navy's patrol team. However, due to legal constraints, the Navy refrained from using force while the suspects swam away.
The Navy is determined to identify the masterminds behind this illegal operation and locate storage facilities, with some of the confiscated products discovered in houses in Badagry.
 Authorities have issued stern warnings instead of immediate destruction, considering the presence of vulnerable populations in the area.
Flag Officer Commanding Western Naval Command, Rear Admiral MB Hassan, and Commander of the joint task force South West Operation AWATSE, urged fuel station authorities in Badagry to enhance monitoring and prevent the sale of stolen products. 
He acknowledged the difficulty of community-based intelligence in Badagry due to widespread involvement in illicit activities.
Simultaneously, the Navy inaugurated a subset of Operation Water Guard, named the Clarence Operation, focusing on the NNPCL pipeline right of way from Atlas Cove to Ijegun.
 This initiative aims to reactivate pipelines that have been inactive for three months, contributing to the nation's economic prosperity.
Rear Admiral MB Hassan affirmed the Navy's dedication to eliminating illegalities in the maritime domain, all guided by Vice Admiral EI Ogalla's visionary leadership. This recent successful operation is a testament to the Nigerian Navy's commitment to upholding the nation's maritime security.
Do you want to share a story with us? Do you want to advertise with us? Do you need publicity for a product, service, or event? Contact us on WhatsApp +2348183319097 Email: platformtimes@gmail.com