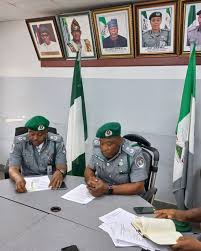 Daud Olatunji 
 The Nigeria Customs Service (NCS), Ogun Area 1 Command, expressed deep concern on Monday regarding the relentless attacks on its operatives by smugglers, resulting in numerous casualties and permanent disabilities.
Area Controller Ahmadu Bello Shuaibu conveyed his worries during the 5th annual Independence Symposium held at Idiroko, organized jointly by the Ipokia Local Government Youth Forum (IPYF) and the NCS Ogun Area 1 Command.
The symposium's central theme was "Smuggling and Hoarding of Petroleum Products: Effects on Border Communities and National Security."
Shuaibu highlighted that the command had faced a multitude of challenges, including the blocking of access roads, mob violence, and confrontations with smugglers and their supporters, which often led to tragic losses of lives.
Speaking through Deputy Comptroller Charles Ogunesan, Shuaibu emphasized that smuggling not only hindered economic development and societal well-being but also posed a significant threat to national security.
"In recent years, our Command has endured numerous harrowing and unwanted experiences in the line of our lawful duties.
These include the blockage of access roads by smugglers and their sympathizers, mob attacks on officers engaged in pursuit or the transportation of seized goods to Government Warehouses, as well as skirmishes and altercations that have resulted in casualties.
We have tragically lost numerous officers to death or permanent disability, while our communities have also suffered significant losses due to the scourge of smuggling.
It is imperative that we unite against smuggling, considering the inherent dangers it poses," he stated.
Shuaibu further disclosed that the command had made seizures totaling N1.5 billion in goods over the last nine months.
He pointed out that if such substantial sums were directed toward legitimate trade, it would significantly boost the local economy and benefit the nation as a whole.
The symposium's primary aim was to educate and raise awareness, particularly among the youth, about the adverse effects of smuggling on socio-economic well-being and national security.
The Area Controller called upon the youth and other stakeholders to provide their support and cooperation in the ongoing battle against smuggling, emphasizing that the responsibility for the security and development of the nation rested with all citizens.
Do you want to share a story with us? Do you want to advertise with us? Do you need publicity for a product, service, or event? Contact us on WhatsApp +2348183319097 Email: platformtimes@gmail.com