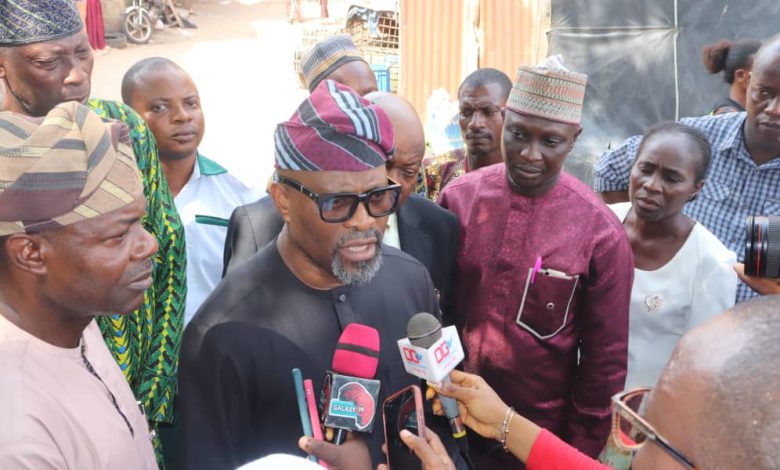 Daud Olatunji
In a resolute commitment to fostering a thriving business ecosystem and uplifting small-scale enterprises, the Ogun State government is unwavering in its mission to maintain an enabling environment for businesses, ensuring the prosperity of its residents.
Mr. Adebola Sofela, the Commissioner for Industry, Trade, and Investment, reaffirmed this commitment during a media address in Abeokuta. 
Accompanied by the Permanent Secretary, Dr. Olu. Ola. Aikulola, and other top management staff of the Ministry, he led a tour of various agencies, markets, and the Ogun State Chambers of Commerce, Industry, Mines, and Agriculture (OGUNCCIMA) complex.
The tour included visits to key locations such as the Food Crops Marketing Board (FCMB), Gateway Trading Company, Oba Lipede Ultra-Modern Market, Kuto, and the June 12 Market Panseke in Abeokuta.
Sofela emphasized the Dapo Abiodun-led administration's dedication to boosting businesses across all sectors and attracting private capital to the state.
 Small businesses will be a focus, and the government will continue its efforts to create a conducive business climate.
Commenting on the state of the Oba Lipede Ultra-Modern Market, which recently underwent renovation after a rainstorm, the Commissioner expressed the government's commitment to the prosperity of its citizens and assured that necessary actions would be taken to alleviate the traders' hardships.
Sofela urged traders to consider group insurance as a cost-effective means of safeguarding their goods. 
He also encouraged timely rent payment, maintaining hygienic market conditions, and preventing waste disposal in water channels.
The Commissioner promised comprehensive support for agencies under the Ministry, such as the Food Crops Marketing Board and Gateway Trading Company, to enhance their performance and self-sustainability without competing directly with state industries.
At the OGUNCCIMA complex, Sofela discussed collaboration with the Chambers to organize improved Trade Fairs, enhance capacity building, and promote investment-focused trade missions. 
The government's vision is to foster a robust business environment that empowers entrepreneurs, drives economic growth, and enhances the overall prosperity of Ogun State residents.
Do you want to share a story with us? Do you want to advertise with us? Do you need publicity for a product, service, or event? Contact us on WhatsApp +2348183319097 Email: platformtimes@gmail.com