Daud Olatunji
In 2022, Ogun State found itself in the national spotlight for road accidents, ranking third in Nigeria for the highest number of road crashes, resulting in the tragic loss of 397 lives. 
This shocking data, recently released by the National Bureau of Statistics (NBS), paints a grim picture of road safety in the region.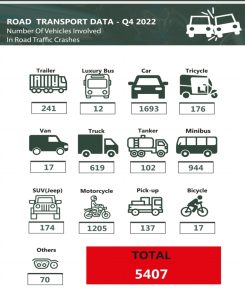 Among all states, Kaduna took the top spot with 680 fatalities, followed closely by the Federal Capital Territory with 403 deaths. Ogun's third-place ranking underscores the urgent need for enhanced road safety measures in the state.
The South West region also experienced its share of road accidents, with Ondo ranking 12th with 181 deaths, Lagos 13th with 179 deaths, Osun 21st with 118 deaths, and Ekiti 35th with 41 deaths. These numbers highlight the need for a comprehensive approach to road safety throughout the entire region.
Furthermore, the data revealed that between January and March 2022, a total of 3,345 road traffic crashes occurred nationwide, resulting in 1,834 fatalities. 
A stark gender difference emerged, with 81% of those killed being male. Males also accounted for the majority of injuries, emphasizing the vulnerability of male road users.
While there was a slight decrease in road traffic crashes in Q2 2022 compared to the previous quarter, the numbers remained concerning. Q3 and Q4 2022 showed an increase in accidents, with a total of 3,412 and 3,617 crashes, respectively.
It is evident that urgent action is needed to address road safety concerns in Ogun State and across the country to prevent further loss of lives on the roads.
Do you want to share a story with us? Do you want to advertise with us? Do you need publicity for a product, service, or event? Contact us on WhatsApp +2348183319097 Email: platformtimes@gmail.com