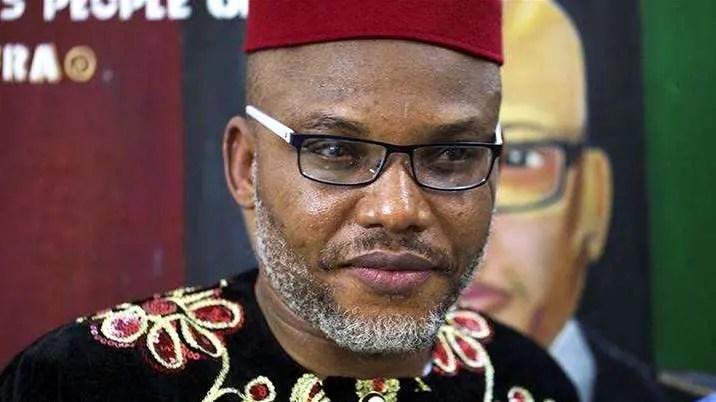 The Igbo apex socio-cultural organization, Ohanaeze Ndigbo Worldwide, is taking concrete steps to secure the release of Nnamdi Kanu, the leader of the Indigenous People of Biafra (IPOB). 
In a significant move, the organization has announced its intentions to meet with President Bola Ahmed Tinubu, a prominent political figure, to advocate for Kanu's immediate release.
The President of Ohanaeze, Chief Emmanuel Iwuanyanwu, disclosed this development on Saturday during a gathering at his residence where he received the leadership of the Supreme Council of Nigeria Traditional Rulers, Southeast chapter. 
Iwuanyanwu's statements shed light on the crucial role the Igbo community plays in Nigeria's socio-economic landscape.
Iwuanyanwu emphasized that other ethnic groups in Nigeria have falsely presented the Igbo ethnic group as harboring ambitions of secession, which has fueled suspicion and apprehension among the government and other ethnic groups.
 He backed his claims with statistics, asserting that the Igbos are substantial stakeholders in Nigeria's development, with over 60 percent of the country's investments attributed to them.
Furthermore, he pointed out that Igbo investments and residential identities extend across the nation, a stark contrast to some other ethnic groups who largely concentrate their activities within their respective geographical regions. 
This diversity, he argued, underscores the need for a more inclusive and equitable approach to national issues.
Addressing the concerns surrounding Nnamdi Kanu's detention, Iwuanyanwu remarked, "His continual detention is escalating insecurity in the Southeast." He expressed his commitment to ensuring that Kanu's release takes place promptly. 
The Ohanaeze leader underscored the necessity of peace and stability within the Igbo community and cautioned against the exploitation of Kanu's situation by certain individuals and groups with ulterior motives.
Iwuanyanwu conveyed his hope that Nnamdi Kanu's release would usher in an era of renewed peace and sanity in the Southeast, preventing any future misuse of his name or detention to incite instability.
The delegation visiting Iwuanyanwu, which included HRM Eze Iheanyichukwu Nwokenna of Abia State, and HRH Eze Dr Oliver Ohanwe, traditional ruler of Isiama ancient kingdom in Imo's Isiala-Mbano LGA, expressed their solidarity with Ohanaeze's efforts and reiterated the importance of securing Nnamdi Kanu's release for the overall well-being of the Igbo community.
Do you want to share a story with us? Do you want to advertise with us? Do you need publicity for a product, service, or event? Contact us on WhatsApp +2348183319097 Email: platformtimes@gmail.com