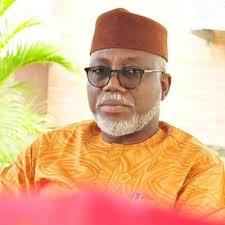 Impeachment proceedings against Ondo State Deputy Governor Lucky Aiyedatiwa have been temporarily halted by the Ondo State House of Assembly. 
This decision comes in response to the refusal of Chief Judge Olusegun Odusola to set up a panel for the impeachment exercise, citing a Federal High Court order.
The Ondo State House of Assembly, which had initially insisted on proceeding with the impeachment process, decided to comply with the court order at its sitting in Akure on Thursday. 
Olatunji Oshati, the spokesperson of the assembly, explained that this decision was not about wielding power but about fulfilling their oversight responsibilities.
Oshati stated, "This is to show that it is not about witch-hunting, it is about carrying out our oversight functions. 
We have considered the letter which is everywhere in the public domain and we are halting the impeachment process until the order of the Federal High Court is vacated.
 It is not about being arrogant with power, it is about holding public officers accountable. 
It also shows that the process of impeachment transcends the monopoly of the legislature as we can see that the judiciary has stalled it."
The House of Assembly had originally directed the chief judge to set up a panel to investigate allegations of gross misconduct against Deputy Governor Aiyedatiwa, made by nine lawmakers. 
However, Chief Judge Odusola responded in a letter, explaining that he couldn't comply with the directive due to the Federal High Court order issued in Abuja.
The court order was granted at the request of Deputy Governor Aiyedatiwa, pausing the impeachment proceedings until the court determines his case against the exercise. 
Chief Judge Odusola cited Section 287 (3) of the Constitution as the reason for his inability to act on the assembly's letter.
In his letter to the Speaker of the Assembly, Chief Judge Odusola said, "Notwithstanding the above provision, a Court order is binding until set aside either by a Court of coordinate jurisdiction or by an appellate court."
In the midst of these developments, a peace committee set up by the national leadership of the All Progressives Congress (APC) and led by Abdullahi Ganduje is expected to submit its reconciliation report on Friday. 
This committee's primary objective is to find common ground for reconciliation between Governor Rotimi Akeredolu and Deputy Governor Aiyedatiwa, as their strained relationship is considered a significant factor behind the impeachment efforts by the state lawmakers.
Do you want to share a story with us? Do you want to advertise with us? Do you need publicity for a product, service, or event? Contact us on WhatsApp +2348183319097 Email: platformtimes@gmail.com