News
Owu Baptist Church Celebrates 120 Years Anniversary, Gives Donation To Orphans, Hospitals 
Fawaz Adebisi
In a way to celebrate her 120 years anniversary, the Owu Baptist Church, at Totoro Abeokuta, Ogun State has given donations to orphans as well as hospitals in Abeokuta. 
Chairs, bedsheets were donated to hospitals as foodstuffs, including bags of rice and packs of indomie, were given to orphans at Stella Obasanjo Children Home.
The celebration, which is a six-day event, kick started on Friday at the Owu Baptist Church, Totoro Abeokuta, Ogun State with a press conference.
The press conference, anchored by the chairman of the 120 years anniversary committee, Engr Nathaniel Oyedele, the Host; Clergy Rev Josiah Adesope, and Prof Deacon Kayode Omoyinmi, had members of the church, invited guests, and press representatives in attendance.
Addressing pressmen, Engr Oyedele briefly narrated what the church has achieved throughout its year of existence.
He said that the church has built three daughter churches, which are Alaafia Oluwa Baptist Church Ogbe, Alaafia Oluwa Baptist Church Olosun, and Alaafia Oluwa Baptist Church Kere/Eleyele
He added that the church also has a Multi-Purpose Building, "Dr. Ayorinde's House", a Pastorium at Ita-Iyalode and Social/Benevolence Programme.
According to him, many people benefit from these inventions, adding that the church also embark on giving out charities to the poor.
Citing an example, he said, to cushion the effects of fuel subsidy for the church members and neighbors, the church gave out palliatives alongside money to help some individuals.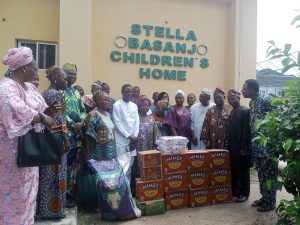 In the same vein, he said the church has given out to the nation by producing nation leaders like the former president of Nigeria, Olusegun Obasanjo.
He also stressed that the church has grown rapidly, both spiritually and numerically.
He said, "Owu Baptist Church has grown (a) Spiritually (b) Numerically and (c) Geographically under the leadership of able Pastors, Deacons and other men and women of the Church."
He mentioned the church's assistance in completing a church for a leper colony and connecting them to the electricity supply through a prepaid meter.
Additionally, he said the church generously extended the use of a dedicated church transformer to the community.
He also stressed their relationships with other Christian bodies, such as the Bible Society of Nigeria, CAN, and CCN, are very cordial.
"We co-operate with Nigeria Baptist Convention, Ogun State Baptist Conference and the Ogun State Association."
Speaking on other events that will take place to celebrate the anniversary, he highlighted the programs.
He listed, "on Friday, October 13; Press Conference & Charity Visitation, on Thursday, October 19; Novelty Football Match Between Ibara Baptist Church Youth, and Owu Baptist Church Youth, on Sunday, October 25; Anniversary/ Evangelism Rally, on Friday, October 20; Praise & Prayer Launching Of Church Music Album, on Saturday, October 21; Medical Outreach Anniversary Lecture Documentary, and on Sunday, October 22; Grand Finale / Anniversary Thanksgiving / Legacy Projects, Fundraising.
Present at the conference were; Onimo Ero of Egbaland, Rev Francis Umukoro, Chairman of Board Of Trustees, Chief Engr Tokunbo Odebunmi, Prince Adediran, Mr Sunday Makinde, Olusegun Odewole, Chief Kayode Adebiyi, Samuel Johnson among others.
Engr. Oyedele expressed appreciation to the invited guests as he emphasized the church's commitment to promoting peace in the community.
Do you want to share a story with us? Do you want to advertise with us? Do you need publicity for a product, service, or event? Contact us on WhatsApp +2348183319097 Email: platformtimes@gmail.com