Israel Adeleke
Residents of Lagos's Borno Way in Ebute Metta are breathing a sigh of relief today as the Lagos State Ministry of Environment and Water Resources took swift and decisive action to address severe flooding in the area.
 The Ministry sealed off eight properties accused of dumping construction materials into drainage channels, exacerbating the flooding crisis.
Kunle Adeshina, the Ministry's spokesperson, made the announcement on Friday, October 27, 2023, through the Ministry's official social media account. 
In a post on the platform, he revealed that operatives from the Drainage Enforcement Department of the Ministry were hard at work removing structures that had contravened the drainage regulations.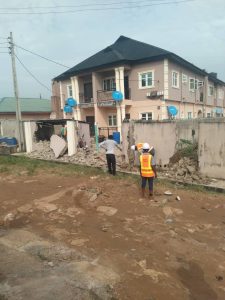 The flooding problem along Borno Way in Ebute Metta had become a major concern for residents, leading to significant property damage and making life difficult for those in the affected area.
 It was a situation that had persisted for far too long, leaving many residents frustrated and fearful of the rainy season.
This recent action by the Lagos State Ministry of Environment and Water Resources has been met with widespread relief and appreciation from the community. 
The enforcement of drainage regulations not only alleviates the immediate flooding concerns but also signifies a commitment to the safety and well-being of Lagos residents.
With the removal of the structures that obstructed the drainage channels, there is hope that this measure will significantly mitigate future flooding incidents in the area. 
The Ministry's intervention comes as a timely and crucial relief for residents who had endured years of flooding-related woes.
Local resident, Fatima Adekunle, expressed her gratitude, saying, "We've been living in fear every time it rained.
" Finally, we can look forward to the rainy season without worrying about our homes being submerged. We appreciate the Ministry's quick response."
The Lagos State Ministry of Environment and Water Resources' action serves as a stern warning to individuals or entities that disregard drainage regulations. 
It sends a clear message that such violations will not be tolerated, and those responsible will face consequences.
As the city of Lagos grapples with infrastructure and environmental challenges, the decisive action taken to address the flooding issue along Borno Way is a positive step toward improving the living conditions of its residents. 
This story serves as a reminder of the importance of adhering to environmental regulations, and the relief it brings to those affected by such violations.
Do you want to share a story with us? Do you want to advertise with us? Do you need publicity for a product, service, or event? Contact us on WhatsApp +2348183319097 Email: platformtimes@gmail.com