Featured
Special Reports
SPECIAL REPORT: Ogun Border Community Loses Pupils To Benin Republic Over Dearth Of  School
In the heart of Ogun state, the traditional ruler of Gbokoto-Isale, Yewa-North Local Government Area of Ogun State, Oba Ganiu Olukunle, opens up to  DAUD OLATUNJI, Editor, about their community's heartbreaking journey, as Nigerian pupils cross borders into Benin Republic due to the haunting absence of a school.
Gbokoto-Ketu Isale, a border community sharing its existence with the Benin Republic.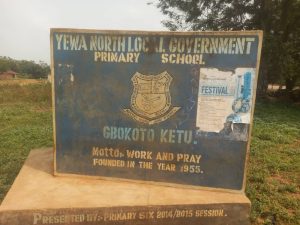 PLATFORM TIMES gathered that this enclave, marked by a market that straddles both nations, tells a story of shared struggles and aspirations between Nigeria and its neighbouring country, Benin Re.
Despite its communal ties, Gbokoto-Ketu Isale faces a dire shortage of essential resources. The lack of a  school and a health center leaves residents vulnerable, with no immediate medical assistance within reach. The absence of such a basic necessity underscores the neglect that this community endures,
Amid the crumbling remnants of a once-promising educational structure, the Oba, in office for 25  years, narrates a tale of neglect. "Our school could barely house primary 1-4, and now, there's almost  no school in the community. Efforts to repair were community-driven, yet our pleas to the government echo in silence," he laments.
A ghost of an unfulfilled promise looms large from the past, as a governor's initiative in 2011/2012 collapses into decay. 
The Oba describes a futile quest for assistance, meetings with officials, and desperate attempts to secure teachers.
He said two teachers, one principal, and a desperate plea for assistance paint a stark picture of neglect.
He added that with 179 pupils clinging to hope, only two teachers stand in the breach, their pleas to various education bodies met with bureaucratic apathy. 
"We signed no undertaking, fearing for our teachers' safety in a land plagued by insecurity," the Oba reveals.
A resident of the area, Monday Ibeku,while sharing the plights of the residents of the area with PLATFORM TIMES,said he was  burdened by the weight of a crumbling infrastructure.
Ibeku sheds light on the precarious condition of the ancient primary school that once echoed with the laughter of eager children. Now, it stands in ruins, a somber reminder of promises unfulfilled. 
He lamented that the children, driven by the pursuit of education, embark on a daily journey that transcends borders. 
According to him, Ohumbe, another community which is  a distant neighbouring community became the next choice for some parents who prefer to enrol their children in the Nigerian school,but, the  road to th community however, is paved with challenges.
He however, said to navigate  the path from Gbokoto-Ketu Isale to Ohumbe requires more than determination. 
He said it demands resilience against the constraints of time and distance. 
He stated "the lucky few who can afford it opt for a 30-minute motorcycle ride, racing against the clock to bridge the gap. For those less fortunate, a three-hour trek on foot becomes a daily pilgrimage, an arduous odyssey in pursuit of enlightenment.
"The situation is pathetic," laments Ibeku, his words echoing the collective frustration of a community forgotten by governance. 
He alleged that despite being aware of the hardships faced by the people of Gbokoto-Ketu Isale, the government's response remains elusive. The pleas for intervention have become an echo in the wind, reverberating through the corridors of power without eliciting tangible action.
The monarch said "I assumed the role of Oba 25  years ago, inheriting a primary school with limited infrastructure – originally accommodating pupils from primary 1-4, while classes 5 and 6 were combined.
"Regrettably, the school now stands abandoned; the existing structure was maintained through community efforts, with locals contributing to repair walls and fix the roof.
"In 2011/2012, during Governor Amosun's administration, MDG projects were initiated, including school construction in communities like Gbokoto. Unfortunately, the project in our area was left incomplete, resulting in the structure's collapse. To date, there is no functional school building.
"Despite reaching out to government officials, including the Ministry of Budget and Planning, our efforts yielded no results. Frustrated, the community took matters into their own hands, constructing a building and acquiring a roof. However, parents remain hesitant to enroll their children due to concerns about the building's safety.
"As of now, 179 pupils remain, with 30% attending schools in Benin Republic. We have only two teachers, despite numerous attempts to secure more from SUBEB and FCE Osiele, who provided student teachers for two terms.
Two teachers, one principal, and a desperate plea for assistance paint a stark picture of neglect."
…Water Scarcity Forced Residents To Travel  To Benin Republic 
PLATFORM TIMES gathered that water, a basic necessity, is sourced from the Benin Republic, an ironic twist for a community within Nigeria's borders. 
It was further gathered that the roads, rendered impassable by rain, force residents into a circuitous route through a neighboring country, further deepening their isolation.
"We feel like we are not part of Nigeria," the Oba laments, highlighting the all-too-familiar political amnesia that follows elections.
In their quest for water, the community has dug wells, only to face the heartbreaking reality of incomplete projects and elusive artisans. "Our sons in diaspora try," the Oba sighs, reflecting the resilient spirit of a community struggling to survive.
He said " our water source is from Benin Republic, as we share a common boundary with a market.
"The bad road conditions further isolate us, especially during the rainy season, forcing us to navigate through Benin Republic to reach Gbokoto.
"Two wells were dug in an attempt to address our water problem, but they proved unsuccessful. Local artisans cited the difficulty of the terrain as a hindrance, leaving the wells incomplete.
"To compound our challenges, contacting the government on these issues has proven elusive.
"While some indigenes attempted well-digging, failures ensued. Artisans brought from the Benin Republic tend to escape, complicating our situation. Our diaspora-based sons are making efforts, but the situation remains dire in Gbokoto-Isale."
Speaking about the lack of hospitals, the Ibeku  said the  community being  a border community with the Benin Republic shares only a wall  that separates them.
He added "the only nearest hospital to the community is in Ohunbe which is many kilometers away to the community . The hospital  in the Benin Republic is nearer  compared to Ohumbe .
On the cost of medical tourism, he said "as at now, N1,000 is equivalent to 600 cfa
Ogun State government had yet to react to the situations as PLATFORM TIMES continues to reach out to its  officials who refused to make a comment over the plights of the neglected communities in the state.
Do you want to share a story with us? Do you want to advertise with us? Do you need publicity for a product, service, or event? Contact us on WhatsApp +2348183319097 Email: platformtimes@gmail.com