Featured
Special Reports
SPECIAL REPORT: Ogun Village Fades Away As Lack Of Infrastructure Threatens Residents' Survival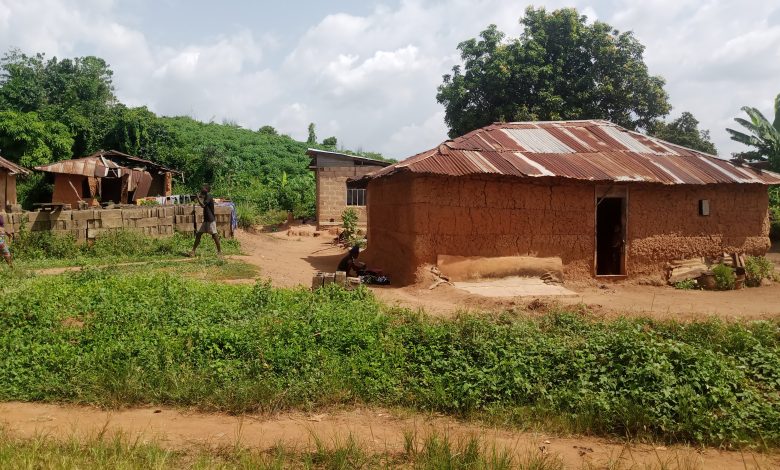 …. "Out Of Over 50, We Have Just 5 Houses Left"
…. Residents Bemoan Deplorable Road Conditions, Impact On Healthcare Access
… "This Community Has Been In Darkness For Over 100 Years"
Fawaz Adebisi 
On a sunny Saturday morning, this reporter embarked on a journey to Tonawo, a secluded agrarian village nestled within the Obafemi Owode local government of Ogun State.
The mission was to unearth the challenges faced by the village residents due to their geographical isolation and the desperate need for better infrastructure.
The trip, however, was far from a smooth ride. Upon approaching the village, it became apparent that the mere mention of "Tonawo" sent motorcyclists scurrying away. Determined to reach the  destination, this reporter had to make a decision – to trek from Oloke, a settlement a few kilometers away from Moshood Abiola Polytechnic (MAPOLY).
The journey on foot was no small feat, taking several hours to traverse the rugged terrain that lay between Oloke and Tonawo. The lack of a proper road linking these two places has cast a shadow of isolation over the residents of Tonawo.
This isolation has led to a variety of challenges for the villagers, including limited access to healthcare, education, and economic opportunities.
As this reporter  finally approached the village, the road  bore the unmistakable scars of neglect. It was more of a winding path, beaten down by years of abandonment. Potholes, overgrown vegetation, and a distinct lack of maintenance defined the route. It was evident that this once-thriving village had been left to fend for itself, cut off from the progress seen in nearby regions.
Upon reaching Tonawo, the community revealed itself to be a resilient and close-knit society. The villagers welcomed this reporter  with open arms, sharing their stories of perseverance in the face of adversity.
 The lack of proper infrastructure had not dampened their spirits. Instead, it had fueled a sense of unity and determination to improve their living conditions.
Residents spoke of the urgent need for a functional road that would connect them to neighboring areas, making it easier to access essential services, transport their agricultural produce, and enhance their overall quality of life.
 They emphasized that their isolation should not equate to neglect by local authorities.
As the sun dipped below the horizon, casting long shadows over the village, it was clear that Tonawo's story was one of both challenges and unwavering spirit. 
The resilient people of this agrarian community continue to hold onto hope for a brighter future, where they are no longer cut off from the opportunities and development that the rest of the state enjoys.
The residents of Tanawo have been facing a daunting challenge on a daily basis as they traverse a bumpy, uneven trail that has been ravaged by erosion and marked with countless potholes that seem to stretch endlessly. 
This journey has become an emblem of their resilience in the face of adversity, a testament to their determination to overcome the obstacles that life has thrown at them.
The trail to Tanawo is not for the faint of heart. It's a treacherous path that has been worn down by time and the forces of nature. 
Erosion has carved deep furrows into the trail, making it uneven and difficult to navigate. Countless potholes, some so deep they seem to have no end, dot the path, turning what should be a simple journey into a challenging ordeal.
For the residents of Tanawo, this is not a one-time ordeal but a daily struggle. They have learned to adapt and face this challenge head-on.  Walking this trail is not just a physical journey; it's a testament to their determination and resilience. They've turned this daily obstacle into a symbol of their unwavering spirit.
As this reporter  moved closer to Tanawo, this reporter was accosted by a group of  children. Their appearance told a story of resilience. These children, who were making their way to the village, bore the signs of being long-time residents of Tanawo. 
They were covered in dust and mud, their clothes worn and patched, but their smiles were infectious. These young souls, determined and full of hope, are a testament to the unwavering spirit of the people of Tanawo.
These young souls embarked on a return journey from the distant Sogbamu village, located just a mere 10 minutes away. Their mission? To purchase biscuits.
In a heart-to-heart conversation, the children shared their unique predicament – they must "travel" from their home village, Tonawo, for any essential item, as no one is willing to sell even the simplest of goods within their community.
This heart-wrenching narrative goes beyond treacherous roads; it paints a picture of a community plagued by a dearth of clean water, the absence of electricity, inadequate healthcare facilities, and a constant shadow of insecurity that casts a looming presence over the village.
Out Of Over 50, We Have Just 5 Houses Left" 
On getting to Tonawo, only a few houses were seen as many were either  abandoned or destroyed.
Maria Sunday, the wife of Tanawo Baale, Senu Sunday narrated how the village, once filled and bustled by people, became a ghost itself .
Mrs Sunday, who had live for over 35 years in the village explained that there were over 50 houses in the village before it remained about 5.
In her words, her father was an indigene of the village and had lived there throughout his life. "Despite how old this community is, we have not enjoyed any social amenity for once," she asserted.
According to her, the lack of road had driven many away from the village as business could not strive in the community.
"We don't sell anything here anymore, we used to sell but now we don't sell any more because of the lack of roads and the state of the country."
She stressed that it was always tough for residents in the community to transport goods or sell anything in the village as no one would patronize them.
"The road makes us go hungry, whenever we make Garri, cassava, corn, vegetables, tomatoes, and pepper, motor couldn't come, because of the road, to help us transport it to the market.
"So, we put the farm products on our head and take it to the bus stop at Olorunsogo…, Then from Olorunsogo , we go to the market."
Echoing her voice, Mrs Ajose Deborah, a villager in Tonawo, lamented that there is no form of business in the village, as it was in the past.
"We have no business here because it is underdeveloped, nobody can patronize us," she lamented.
"Cab doesn't reach here, we trek too Olorunsogo get anything, we don't have any pharmacy or anything, we have no one to call for aid," she added.
Residents Bemoan Deplorable Road Conditions, Impact On Healthcare Access
The residents of Tonawo further lamented the bad state of the road and how it has affected their activities.
The Baale's Wife stressed that residents of the community go out once a week, except he / she has a bike.
"We go out on market days, the road doesn't make us see what the city looks like whenever we want to as we would be spending so much if we want to."
According to her, from MAPOLY, bike men charge N1,000 to transport us into our communities, wailing its effect on their livelihood.
Wesu Alaba, a farmer in the village, couldn't hide his frustration as he spoke about the treacherous journey on the road that connects Tonawo to the outside world.
Corroborating Mrs Sunday's words, Alaba, who has lived in Tonawo for over five years, said "we transport our goods to Kuto and Lafenwa and we can't increase our price because we want to sell, if we increase it, we won't sell," depicting how frustrated he was.
"We don't have gains because we have no proper roads, and it affects everything," he added.
Also, one of the most pressing issues in the village is accessing healthcare easily, as pregnant women practise home birth, ignoring the risk.
Mrs. Deborah, emphasized the dire situation they find themselves in, saying, "We don't have a hospital, and the health center available is very far from here. We rush our children there, and sometimes we have to call nurses to attend to them."
Mrs Sunday affirmed that no woman has given birth in the hospital before in the community, as they all deliver at home.
"God is our savior, we haven't had any issue that led to death."
However, the World Health Organisation, WHO, had warned that mothers and newborns should receive postnatal care within 24 hours of birth, and at least three additional visits within the first six weeks.
But the case is not like that in Tonawo community as they ignore all the risks involved, relying on God alone.
Mrs Sunday stressed that lack of hospital in the community and bad road for quick access were one of the reasons for the practice.
She therefore urged the government to provide essential basic amenities in the village.
"This Community Has Been In Darkness For Over 100 Years"
Electricity, a modern luxury, remained a distant dream for the people of Tonawo. The absence of power plunged the village into darkness each night, hampering not only daily life but also the community's economic activities and access to information.
Since it has been found, for over 100 years, Tonawo has been in darkness, the oldest woman in the village, Adenike Jimoh said.
Mrs Jimoh who had lived almost her life in the village, said that the community had never enjoyed any amenities from the government.
"We are suffering from many things in this village, our roads have been blocked, we don't move out, we are suffering from many things," she said.
Apart from these, children are also unable to access secondary education in Tonawo.
However, despite the challenges residents of Tonawo are facing, they cast their vote during the last general and governorship election.
According to them, there's a nearby polling unit, at Sogbamu, where they exercise their franchise.
They therefore called on the government to come to their aid.
Channel Your Plights Properly, LG Tells Residents
When contacted, the Chairman of Obafemi Owode, Lanre Ogunsola, urged residents in the local government to always channel their complaints to the LG secretariat.
Ogunsola, speaking through the council's spokesperson, Segun Soneye, said it is impossible to know their plights without them complaining.
He explained that he doesn't have knowledge of what is happening in all communities in the local government, stressing that there are over 600 communities with over 25,000 persons in the LG.
Though he said the problems Tonawo people are facing is pecuiliar to almost every community, he however pleged his commitment to making life easy for them.
He therefore said, "we would meet them, but they should send a representative to the local government directly, they can come through the director of information's department and fix a date to come to local government and meet me, or the vice chairman or any supervisor.
"So, they'll be able to channel their issue to the local government and the local government can now prioritize on what to do.
"Out of three things , the LG can afford to do one, within that axis. For example, we can't sink a borehole for the whole 600 communities in the LG, is very serious.
"And every community has their own priority, some might lack water, road and health, we would then ask them to pick and then work on it."
He therefore urged residents of the local government to always channel their plights and requests to the appropriate quarters, to be properly addressed.
Do you want to share a story with us? Do you want to advertise with us? Do you need publicity for a product, service, or event? Contact us on WhatsApp +2348183319097 Email: platformtimes@gmail.com