Featured
Metro
Special Reports
SPECIAL REPORT : Suffering Knows No Bounds: Ogun Roads Collapse Amidst Abiodun's, LG Chairman's Callous Indifference
Tension Soars as Lawyer Enlists Police In Battle For Access Road, Communities Stand Resolute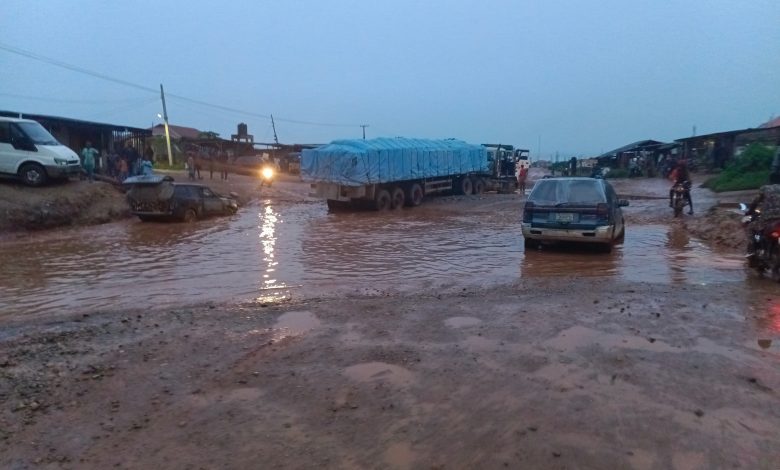 …Residents Rain Curses On LG Chairman As Sick, Pregnant Victims Suffer 
… Desperation on Display: Unions Leaders  Turn Tragedy Into Profit Amid Road Chaos
.. Like Soyoye, Like Many Others: Ogun State Residents Endure Unbearable Road Conditions
Daud Olatunji
In a heart-wrenching turn of events, the once-bustling Soyoye-Rounder-Lafenwa road in Ogun State has become a symbol of despair and agony for hundreds of residents who traverse its crumbling surface daily. 
This road, which connects them to essential services and livelihoods, has been reduced to a perilous journey filled with confusion, frustration, and excruciating pains.
The deplorable state of the road has left countless Ogun residents stranded, as they navigate treacherous potholes and dilapidated sections, praying for safe passage every time they venture out. 
No thanks to Ogun State government and the chairman of Abeokuta-North local government for their seemingly indifference to the plights of the people in the areas among others .
It's a harrowing ordeal that has left many questioning the priorities of their local government and state leadership.
A recent investigation by PLATFORM TIMES unveiled a disturbing truth: the suffering of these residents has been cruelly compounded by the closure of access roads in the area. 
The decision by the communities to seal off these routes has not only left motorists and commuters in distress but also trapped commercial taxi drivers in a nightmare of lost income and mounting expenses.
The Soyoye road, which was already in a dire state, has now become virtually impassable due to the relentless rainy season, exacerbating the misery of those who depend on it for their daily routines. 
The cries of anguish can be heard echoing through the rain-soaked streets as people endure this seemingly endless ordeal.
In a candid and emotional dialogue with PLATFORM TIMES, victims of this crisis did not hold back their frustration, directing their ire towards the Chairman of Abeokuta-North Local Government.
 They accused him of inaction, insensitivity, and sheer wickedness for allowing the once-proud road to crumble into disrepair while their lives hang in the balance.
The tears, curses, and pleas of the affected residents serve as a poignant reminder of the dire consequences of governmental neglect. 
Ogun State, often celebrated for its rich history and vibrant culture, now finds itself at a crossroads, where the plight of its citizens is overshadowed by the shadows of indifference.
As residents continue to grapple with the agonizing reality of their daily commutes and the relentless rains, they hope for a glimmer of light at the end of this dark tunnel. 
For now, they stand united in their determination to be heard, praying that their cries will resonate with those in power, bringing an end to their confusion, pains, and suffering on the Ogun toads of despair.
… Tension Soars as Lawyer Enlists Police In Battle For Access Road, Communities Stand Resolute
In a dramatic escalation of a long-standing dispute, the Ire-Akari Community Development Area witnessed heightened tension and emotional confrontations as a lawyer, determined to access the community's road, enlisted the aid of the police. 
The clash unfolded when the communities stood united against allowing motorists through their access road, despite police intervention.
The lawyer, whose identity remains undisclosed, attempted to force his way through the tightly sealed gate, only to face fierce resistance from the resolute communities of Ire-Akari.
 Determined to assert his passage, he summoned a contingent of policemen from the Lafenwa police station to accompany him.
This bold move infuriated the communities even more, as they maintained their unwavering stance of keeping the access road off-limits to anyone.
 Prince, the community's spokesperson, known simply by his title, stood firmly on his ground, emphasizing that the community had invested no less than N800,000 in repairing the road due to the heavy volume of traffic it endured.
The team of policemen, arriving in a Hilux van, found themselves facing a wall of defiance as they requested access through the gate. 
The communities, undeterred by the law enforcement presence, ignored the police's pleas to open the gate.
As tension continued to escalate, similar scenes unfolded in neighboring communities under Opara 1, 2, and 3, as access gates were also locked to returning motorists. 
The individuals who depended on these routes to commute from work were left stranded, with Soyoye Road rendered impassable.
The clash over access roads has revealed the depth of frustration and disagreement between the lawyer, the police, and the communities. 
As the standoff continues, emotions run high, with each party standing their ground, leaving the fate of the access road hanging in the balance.
… Residents Rain Curses On LG Chairman As Sick, Pregnant Victims Suffer 
 In a heart-wrenching display of frustration and anger, residents of Abeokuta voiced their vehement displeasure and rained curses upon the Local Government Chairman, Ayorinde Abdu Salam. 
The outpouring of condemnation comes as cases of sick individuals and expectant mothers were left stranded on a deteriorating road, with residents alleging that their cries for help had fallen on deaf ears.
The failed portion of the road, which has become a nightmare for locals, became a symbol of neglect as it prevented prompt access to medical facilities, leaving vulnerable lives hanging in the balance. 
Amidst the chaos, emotions ran high as residents lashed out at Chairman Ayorinde Abdu Salam for what they perceive as a deliberate act of neglect.
Numerous victims, who managed to speak with PLATFORM TIMES, recounted their harrowing experiences, underscoring the dire consequences of this neglected road.
While there were no reported casualties, the suffering endured by those affected painted a grim picture of their plight. 
Pregnant women, already in a fragile state, were forced to endure excruciating pain, and sick individuals faced agonizing delays in receiving much-needed medical attention.
One resident, Mrs. Adesola Adeyemi, with tears streaming down her face, described her traumatic experience as she tried to rush her pregnant daughter-in-law to the hospital.
"We begged, we pleaded, but no one listened," she said, her voice quivering with anger and frustration. "My daughter-in-law's condition worsened while we waited for help that never came. It's unforgivable!"
The anger of the residents is further fueled by what they perceive as the government's indifference to their suffering. 
The neglected road has been a persistent issue for years, causing accidents and inconveniences, yet pleas for repairs have gone unanswered.
Chairman Ayorinde Abdu Salam has faced mounting criticism for his lack of action, with many residents feeling abandoned and betrayed by the very person entrusted to serve their interests. Calls for his resignation have grown louder, and residents have made it clear that they will not rest until the road is fixed and justice is served.
As Abeokuta grapples with the aftermath of this traumatic ordeal, the spotlight remains firmly fixed on the LG Chairman, who now stands at the center of a storm of public outrage. 
The curses that rained down on him serve as a stark reminder of the profound anger and disappointment of the people he was elected to represent and protect.
… Desperation on Display: Unions Leaders  Turn Tragedy Into Profit Amid Road Chaos
In a shocking display of opportunism, chaos unfolded in an unnamed community today as unions and local community leaders exploited the dire circumstances caused by a collapsed road, leaving residents and motorists bewildered and dismayed. 
With roads rendered impassable due to flooding, individuals wearing yellow caps emblazoned with union leader insignias took it upon themselves to forcibly extract N200 from desperate motorists and taxi drivers trying to navigate the treacherous terrain.
The deplorable state of the road had left it submerged in water, creating a nightmarish ordeal for anyone attempting to traverse it. 
In a disturbing turn of events, these self-proclaimed representatives of various unions claimed that the money collected was earmarked for hiring a pumping machine to alleviate the flooding.
According to eyewitnesses, the youth, bearing the distinctive yellow caps, exhibited a degree of coercion and aggression as they demanded the payment from struggling motorists. 
Fear and frustration filled the air as those passing through this hazardous route felt compelled to part with their hard-earned cash.
The irony was stark as the funds collected for the purported pumping machine, intended to clear the waterlogged road, only seemed to exacerbate the problems faced by the community.
The situation, once merely a transportation crisis, had now become a crisis of ethics and trust.
Following these disheartening events, local community leaders were observed at the site of the road's collapse, desperately attempting to restore some semblance of normalcy.
 Their efforts, though commendable, could not erase the stain of the earlier exploitation.
Residents and motorists alike found themselves trapped in a web of desperation, forced to navigate a treacherous path fraught with uncertainty. 
The very people who should have provided solace in a time of crisis had instead chosen to capitalize on the misery of others.
As the community grapples with the aftermath of this shocking incident, questions of accountability and justice loom large.
 The incident serves as a stark reminder of the need for responsible leadership and ethical conduct, even in the face of adversity.
… Like Soyoye, Like Many Others: Ogun State Residents Endure Unbearable Road Conditions
The plight of residents in Ogun State has reached a breaking point as they grapple with the agony of navigating roads that have either collapsed or deteriorated to deplorable conditions. 
The story of Soyoye, a representation of countless others, paints a heartbreaking picture of the suffering endured by the people of the state.
A grim reality confronts the state's inhabitants as roads in nearly every local government area bear witness to neglect and disrepair. 
These dilapidated thoroughfares have plunged communities into isolation, causing immense hardship and suffering.
PLATFORM TIMES undertook an investigative journey that revealed the magnitude of the crisis. 
In many areas, communities have become virtually inaccessible, as the once-paved roads have transformed into treacherous obstacles.
One such example is the community of Bode-Olude, where Alhaji Badmos Jamiu resides.
 He lamented, "From Surudara off Bode Olude to Brown College to Alubarka down Ajegunle Road is a death trap. 
The state of disrepair is far beyond the capabilities of Community Development Associations (CDAs). We desperately need government intervention."
The anguish resonates not only in Bode-Olude but also in Obantoko, where residents endure the agonizing condition of Apete Road, Oloruntedo in Obantoko, Abeokuta, stands as a stark reminder of the decaying infrastructure plaguing the state.
The state's residents, like Soyoye and countless others, share a collective cry for help. 
They yearn for government intervention, for the restoration of safe and navigable roads, and for relief from the relentless suffering inflicted by the current conditions.
As the people of Ogun State endure these unbearable road conditions, their hopes are pinned on the authorities to heed their cries and take immediate action. 
Their collective plea is clear: "Like Soyoye, like many others, we need roads that do not lead us into suffering, but rather, towards a brighter and more prosperous future."
Several attempts to get reactions from both local government chairman and the state government failed .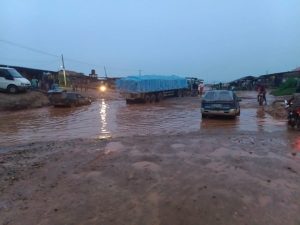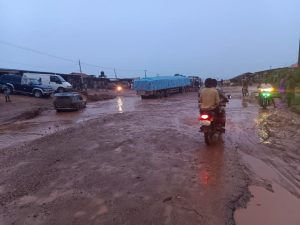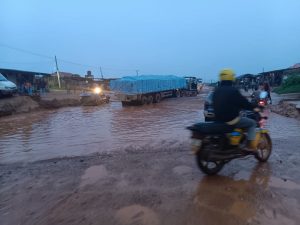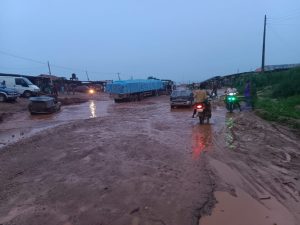 Do you want to share a story with us? Do you want to advertise with us? Do you need publicity for a product, service, or event? Contact us on WhatsApp +2348183319097 Email: platformtimes@gmail.com