Featured
Special Reports
SPECIAL REPORT : Tragedy Strikes Ogun Community : Pregnant Women's Lives Hang In Balance
Residents Travel To  Benin Republic For Treatment 
…  Only Govt. Hospital Abandoned, Turned to Polling Booth
… Quacks reign As Medical Workers Flee
In an emotional and heart-wrenching exposé, DAUD OLATUNJI, Editor of PLATFORM TIMES, embarked on a soul-stirring journey to the heart of Igbokofin, a  community nestled within Yewa North Local Government of Ogun State, where a grim reality has been silently claiming the lives of pregnant women.
A trip to this remote corner of the state revealed a community on the brink, where death has become an unwelcome resident due to the severe lack of accessible healthcare facilities.
 Igbokofin, sharing a border with Benin Republic, is a place where the fragility of life becomes all too evident.
To reach this isolated enclave from the city of Abeokuta, one must endure a grueling six-hour motorcycle journey from Ayetoro on nearly impassable roads, an odyssey through a landscape defined by hardship.
 But this is the only path available to these  people, it  also serves as  the path to a healthcare facility they can barely call their own.
The only beacon of hope, a health center named Amuyanju, serves not only the people of Igbokofin but also 25 other communities around the area. 
However, the grim reality is that that available clinic is not a haven of healing but rather a den of despair, handled by unqualified individuals.
A visit to Amuyanju revealed a shocking truth – a seven-room bungalow where human life and filth coexist. The rooms, some of which defy the standards of human habitation, are devoid of the essential cleanliness and medical expertise required for healing.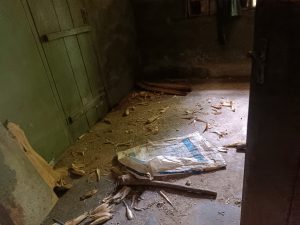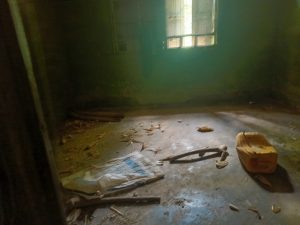 In a tragic and deeply alarming trend, five expectant mothers have lost their lives in the past three years, victims of the inadequacy of healthcare facilities and the wrongful interventions of unqualified personnel.
 Three of these women have been identified: Mrs. Tosin Ayeni, Mrs. Kudebi Silifa, and Mrs. Ogunyomi Maria, their names etched in the annals of this heartbreaking saga.
The death of these mothers is not just a local tragedy; it is a poignant reminder of the broader healthcare crisis in rural communities across the country. 
The absence of healthcare facilities, coupled with the presence of unqualified healthcare providers, poses a daunting threat to expectant mothers and their unborn children.
The community's anguish is palpable. Mr. Adebayo, a resident, voices the collective fear and frustration, "We have been living in fear, especially when our wives are pregnant. 
The nearest healthcare facility is miles away, and in cases of emergency, it's almost impossible to reach in time. "We cannot continue to lose our women this way,"Adebayo lamented.
… Current State Of Igbokofin Community 
 The once vital Ogun State Primary Health Centre in the community, now overgrown with weeds and crumbling, stands as a stark testament to years of indifference. 
The roof has collapsed, the walls are peeling, and the only recent activity within its decaying walls was an election, evidenced by a list of voters posted on a forgotten wall.
A brief journey away from this derelict government hospital takes this reporter  to a so-called 'private' clinic, the Amuyanju hospital, a  seven-room bungalow now sits within a perimeter fence. 
In the eerie silence of the building, with no staff to be seen, this reporter  found records of patients who had sought treatment there. 
Attempts to speak with the workers at the 'private' hospital failed as none of them was found in the clinic. 
An  investigation revealed that  the federal  government constructed four projects  meant to uplift the community—a hospital, a workshop, a market  and a school.
While the building that houses Yewa North Primary School  and Community Gemar School, Igbokofin stand as a lone symbol of functionality, while the hospital meant to provide essential healthcare services alongside others remain  vacant and overgrown with weeds.
 PLATFORM TIMES gathered that medical workers have fled the community, driven away by the poor condition of the road that leads to the community .
The road, or what remains of it, has become a symbol of the community's isolation. 
The Ijoun-Igbokofin road, once a 20-minute journey, has collapsed, making the alternative route a harrowing one-hour ordeal, only navigable by motorcycles. No vehicles can access the road, leaving the community to rely solely on motorbikes. 
The six hours  spent in the community was without sighting a car; it was a relentless chorus of motorcycle engines.
…Survivor's Harrowing Journey Of Pain, Fear
Folakemi Olaniyi's life took a dramatic turn as she embarked on a journey of motherhood that would forever etch vivid memories of struggle, fear, and resilience into her soul. 
Her harrowing experience during childbirth, with no qualified nurses in her vicinity, unfolded like a nightmarish ordeal.
In the dead of night, shadows danced in Folakemi's room, as she felt those subtle twinges that foretold her impending labour. With an invisible clock ticking, she knew she had to act swiftly.
As dawn broke, her heart pounded like a drum in her chest as she hurried to the local health center, where thick anticipation and anxiety coiled around her.
Upon arrival, a grave pronouncement met her – it was time to deliver. Her heart sank, and she rushed back home to gather her belongings, like a traveler embarking on a perilous journey.
Anxiety gnawed at her as she collected her things, knowing the throes of childbirth awaited her.
The second visit to the health center was a blur. She arrived around 6:30 am, her world shrouded in a haze of discomfort and fear. Hours turned into an eternity, her strength waned, and the clock seemed to crawl towards midnight.
Only the baby's head and tiny hands were willing to emerge, an excruciating reminder of her helplessness. 
Desperation drove her to yet another transfer, a painful odyssey through a maze of uncertainty and agony. It was in Ijoun that the stark truth was unveiled – she had lost an alarming amount of blood.
Panic set in as they summoned the doctor. It was then decided that she must be transported once more, this time to Ayetoro, as her life teetered on the precipice.
The final destination was Abeokuta, the Lantoro hospital, where the grim reality of her situation unfolded. 
Surgery was her last hope, and the operating room became her sanctuary. Skilled hands of medical professionals fought to save her life and that of her unborn child.But, while th mother was revived, the newborn could not make it .
While speaking with this reporter, Folakemi recounted, "only the baby's hand emerged, and I was forced to use pampers to cope with the pain."
… A Tragic Tale of How Folakemi's  Hope Was  Shattered
Pastor Kunle Garb, a field missionary who operates in the region and the proprietor of Christ Way Academy in Igbokofin, recounted the horrifying events.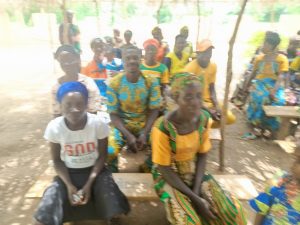 He stated, "Folakemi fell into labour, and she couldn't deliver because we had no qualified nurses around here. The quack nurses and doctors had to call themselves when the baby was coming out. 
"The head of the baby emerged, but she couldn't deliver. You can imagine the pain that she went through.
"They had to carry her in the dead of night with the baby's head protruding from her womb on a motorcycle to Ijoun for delivery. As she arrived there, the local hospital rejected her."
"The situation took an even more distressing turn as they transferred Folakemi to the General Hospital in Ayetoro. Once again, she faced rejection, further complicating her dire circumstances.
"Her condition continued to deteriorate, and eventually, they referred her to a hospital in Abeokuta. However, by this point, she no longer had the strength to deliver her baby independently.
"Tragically, the baby did not survive the journey to Ijoun. The head of the baby remained outside her womb as they tried desperately to reach medical help, but it was all in vain.
"The excruciating and prolonged ordeal had taken a devastating toll on Folakemi. Her womb was ruptured during the last labour, leaving her unable to conceive in the future. Only the grace of God, it seems, can offer any solace in such a grim situation."
PLATFORM TIMES observed that Folakemi's story serves as a painful reminder of the healthcare disparities that persist in certain parts of the world, where access to qualified medical professionals is a luxury many cannot afford.
… Father of Late Pregnant Daughter Dies Two Years After Her Tragic Demise
A heart-wrenching tragedy struck the peaceful town of Igbokofin when Mr. Peter Aina Ayeni, who had already lost his pregnant daughter, Tosin Ayeni, during childbirth two years ago, passed away last week Tuesday night, reportedly succumbing to the immense grief and shock that followed the loss of his beloved child.
This heartbreaking event has raised concerns about the quality of healthcare in the region, with allegations of wrongful handling by unqualified nurses.
According to sources close to the family, the senior Ayeni had gone into a coma following the devastating loss of his pregnant daughter, Tosin Ayeni, during childbirth.
 Her untimely demise had left the family in a state of despair, and the emotional toll had apparently taken a severe toll on Mr. Peter Aina Ayeni's health.
The tragic saga began when Tosin, late  Ayeni's daughter, was under the care of unqualified nurses during her labour, a situation that ultimately led to her passing.
 The bereaved father was said to have never fully recovered from the shock and grief of losing his daughter, which ultimately resulted in his own untimely death on a fateful Tuesday night.
Sources close to the family revealed that Ayeni's passing marked yet another tragic chapter in the healthcare woes of Igbokofin. 
…  Lack of Healthcare Facilities Claims Lives, Prompts Plea For Government Action
 Pastor Kunle Garb, a dedicated field missionary to Ohori nations, and the proprietor of Christ Way Academy in Igbokofin, Yewa North Local Government of the State,says he  has spent nearly eight years deeply embedded in the community. 
Garb said over the years, he has transitioned from being a researcher, who studied the community for 16 years to understand its people and environment, to a relentless advocate for a critical issue plaguing Igbokofin – the dire state of healthcare.
Pastor Garb, in an exclusive interview, painted a grim picture of the health situation in the community.
 He expressed deep concern about the lack of a functional government hospital, which, although it existed, had no nurses due to a failure to provide necessary amenities. 
The deplorable state of the roads leading to the hospital further exacerbated the situation, leading to its eventual closure. 
As a result, the community has been left at the mercy of untrained, unqualified healthcare providers, colloquially referred to as "quack doctors."
In the last two to three years, Pastor Garb reported that approximately five pregnant women have tragically lost their lives due to complications during childbirth. 
He cited a harrowing incident involving a 26-year-old lady who died while in labour, underscoring the urgency of the situation.
Despite his tireless efforts to draw attention to the community's plight, including letter-writing campaigns and documentaries, Pastor Garb lamented the lack of a meaningful response from the government. 
He expressed frustration at the empty promises made during political campaigns and the government's apparent indifference to the suffering of the people.
In desperation, the residents of Igbokofin have resorted to seeking medical treatment across the border in Benin Republic. 
PLATFORM TIMES observed that the lack of local healthcare facilities forces them to travel long distances, often resulting in further complications and increased costs. 
While the nearby Benin Republic government hospital offers some hope, the financial burden is substantial, leaving residents at the mercy of another country's healthcare system.
…  How We  Crossed  Borders For Critical Healthcare Due To Lack Of Local Facilities
In a stark revelation of the healthcare crisis in Nigeria, Ganiyat Falomi, a 34-year-old farmer, has shed light on her harrowing journey to Benin Republic in search of life-saving medical treatment for her child, whose condition necessitates regular blood transfusions.
Ganiyat, who hails from a rural area in Nigeria, shared her distressing experience, reflecting the struggles that many families face when confronted with severe health issues in a country where adequate medical facilities are often scarce.
Ganiyat's child, who requires an annual blood transfusion, underscores the urgency of their situation. 
With no suitable local hospital available, they are forced to embark on a costly and arduous journey to the neighboring country of Benin Republic.
Expressing her frustration, Ganiyat lamented, "Whenever we take our children there (Benin Republic), we pay through our nose."
 The financial burden of seeking treatment across borders is a reality for many Nigerians who lack access to reliable healthcare services within their own nation.
She went on to explain, "Many people have no choice but to go to Benin Republic for their treatment, and as for me, my priority is to get healed." Ganiyat's words capture the desperation of countless individuals who are willing to go to great lengths for the sake of their health and the health of their loved ones.
The situation revealed by Ganiyat's journey highlights the pressing need for improved healthcare infrastructure in Nigeria, with families being left with no alternative but to seek medical care abroad, often at substantial personal and financial cost. 
This alarming reality underscores the urgent need for the Nigerian government to address healthcare disparities and invest in accessible and quality healthcare services for all its citizens.
 … Community Laments Deteriorating State Of Local Health Center 
In a community where healthcare was once a beacon of hope, residents now find themselves grappling with the crumbling state of their local health center. 
For Mrs. Ogun Julianu, a forty-year-old fufu seller, the 'private' hospital has become the only saving grace for her and her fellow community members.
Reflecting on a time when health care services thrived at the now-collapsed government hospital, Mrs. Ogun Julianu shares her poignant memories.
 "I gave birth to my first child there," she says with a hint of nostalgia, "and many people visited that place, receiving the care they needed and leaving in better health. If anyone fell sick, that was where they turned for treatment, and pregnant women could deliver their babies safely."
She continues, "I didn't need to travel to France for treatment. In fact, I even gave birth to my last child at the hospital, and everything went well."
However, as the years passed, the local government hospital faced a series of challenges, ultimately leading to its collapse. Left with limited options, the community turned to a private hospital for their medical needs. 
Mrs. Ogun Julianu acknowledges the difficulties faced, noting, "The private hospital, while serving as a lifeline, doesn't match the quality we once had at the government hospital. We strongly believe that the government should prioritize building more health centers here."
In the heart of the community, the health center, which once held such promise, has now fallen into disrepair. Residents lament that it's no longer accessible for pregnant women and others in need of immediate medical attention.
With a healthcare crisis looming, the community is calling on the government to revive and improve the local health center, ensuring that all residents have access to quality healthcare services. 
For Mrs. Ogun Julianu and countless others, the memories of the once-thriving government hospital serve as a reminder of the importance of accessible and reliable healthcare in their community.
… We're Dying Because There's No Hospital Here, Says Resident
Ejidele Timothy, a 49-year-old native born and raised in this neglected community, spoke passionately about the dire state of healthcare, driving residents to desperate measures in the face of preventable suffering and loss.
With a heavy heart, Timothy revealed, "There's no hospital here at all, and there was one, but it has been abandoned for the past seven years."
The absence of medical care in Igbokofin Village forces its residents to embark on arduous journeys to neighboring countries for even basic treatment. "If we are sick and need treatment, we have to go to the French country (Benin Republic)," Timothy lamented. 
This journey of desperation takes two to three grueling hours, not because the treatments are cheap, but because Igbokofin Village has been forsaken. 
"Even if we get there," he continued, "they will insist on their currency, and due to the exchange rate, if we take N20,000 along to the French country, we can end up spending N70,000."
To treat a common ailment like malaria, residents have to spend at least N70,000. The burden is immense, and the pain in their hearts, even more so. Pregnant women face dire circumstances as well. 
Timothy described how, "If it's time for them to deliver, we'll take them to the French country (Benin Republic). There's no advantage we are benefiting from here at all."
Even though Igbokofin Village plays a pivotal role in the democratic process, with nine polling units and residents diligently voting for their leaders, the government's neglect remains glaring. 
Timothy passionately expressed, "Even those chairmen, councilors, presidents, governors, among others, we do vote for them here, and they do carry the vote. We are much in this village, with approximately 25 communities. But this particular Igbokofin Village, we are much."
The anguish of the community is further intensified by the staggering death rate. Residents, both men and women, are losing their lives because they cannot afford the trip to Benin Republic for medical care.
 Timothy mournfully stated, "The rate at which people are dying is just too much. Even today, someone died just because there is no hospital here, and there's no money to go to Benin Republic for treatment."
Timothy's plea to the government was filled with desperation and hope for a better future. "My advice to the government is that they should come to our aid. 
At least, we do vote for them. They should come and help us build a hospital, provide medicine, and well-trained nurses and doctors. The government should please have mercy and come to our aid. 
There's one private hospital here, but the doctors aren't trained; they are just quacks."
Igbokofin Village's tragic tale is a stark reminder of the urgent need for government intervention in Nigeria's underserved rural communities, where lives hang in the balance due to the absence of basic healthcare facilities. 
The residents of Igbokofin Village fervently hope that their plea for assistance reaches the ears of those who can make a difference and end their suffering.
… Life, Death Separated By  Desperate Lack Of Healthcare Facilities, Infrastructure
Samuel Ogunyemi Amos, a 35-year-old native, narrated  a heart-wrenching story that unfolds within the confines of Igbokofin  community where the thin line between life and death is defined by the stark absence of basic healthcare facilities and infrastructure.
Amos said the  close-knit village, once thriving, has been suffering a devastating blow for over a decade as it remains bereft of a functional hospital. 
Accoridng to him, the  once-hopeful beacon, which the villagers relied upon, now stands abandoned and forgotten, a shadow of its former self. 
He said "Doctors and nurses, who once graced its premises with their presence, now visit sparingly during the week.
"Yet, their sporadic visits are marred by the treacherous, impassable roads that snake their way to Igbokofin, leaving them with no choice but to turn back, their medical supplies untouched. 
"The consequence of this forsaken medical facility has plunged the village into a perpetual state of medical emergency.
"As if this wasn't enough, the villagers face a bleak reality, one marked by the absence of essential amenities. 
"Lack of electricity casts a shroud of darkness, while decrepit roads create barriers that are nearly insurmountable. 
"Dire living conditions make consistent medical care an elusive dream, forcing the physicians, who once represented a glimmer of hope, to retreat. 
"For those plagued by common illnesses, the people of Igbokofin have resorted to traditional herbal remedies, grasping at any hope for relief when the hospital became a distant memory.
"But for many, these age-old remedies prove insufficient, leaving us  with a daunting choice."
He lamented that the development  takes them across the border into neighbouring Benin Republic, where medical care comes at a steep cost. 
… Victims Plead  To Ogun Govt. For Help 
In the aftermath of her harrowing experience, Folakemi implored the government to intervene, to mend the crumbling healthcare system.
Her voice trembled as she shared, "The government should visit the hospitals and reconstruct them, so as to prevent the loss of lives of pregnant women."
Her plea was an emotional cry, a plea from the depths of her soul to ensure that no other woman would have to endure what she had.
Ogun Has Highest Maternal Mortality In South West- Data 
The United Nations Children's Fund had in 2022 said it's research showed that the state recorded the highest number of childrens' deaths in the southwestern part of the country.
The survey conducted by the Nigeria Bureau of Statistics in collaboration with UNICEF and other partners showed that Ogun recorded highest figures in neonatal mortality, infant mortality, postnatal care for newborn, among others in the region.
The Social Policy Specialist of UNICEF, Mohammed Okorie, disclosed this at a two-day media dialogue on the 2022 Multiple Indicator Clusters.
According to a research article published in 2019, Ogun State had the highest maternal mortality rate (MMR) in the South-West region of Nigeria, with 325 deaths per 100,000 live births¹. 
Another research article published in 2015  analyzed the maternal and infant mortality in Sagamu Ogun State from 2001 to 2010 using data from Olabisi Onabanjo University Teaching Hospital². 
The article reported that the MMR was high in all the years, but higher in 2010 (7480.32/100,000), 2006 (6437.77/100,000) and 2002 (6352.46/100,000).
 The article also found that the number of women in age group 30-34 was higher in all the years compared to other age groups, and that the expected death of mothers was very high in this age group². 
The article also reported that the stillbirth mortality rate had lower rate than the neo-natal mortality rate for all the years, and that the peri-natal mortality rate was too high².
 A news article from 2019 stated that Ogun State had the highest under-five mortality rate in the South-West region of Nigeria, with 56 deaths per 1,000 live births for children aged 0-11 months and 68 deaths per 1,000 live births for children aged 0-59 months³. 
The article quoted a UNICEF official who attributed the high child mortality rate to poor health-seeking behaviour, low immunization coverage, malnutrition, and poor access to quality health care services³.
According to the web search results, the number of primary health care facilities (PHCs) in Ogun State varies depending on the source and the criteria used. 
However, one possible answer is 236, which is the number of PHCs that have been accredited by the Ogun State Health Insurance Agency using the National Health Insurance Scheme (NHIS) guidelines.
This number was reported by the State Commissioner for Health, Dr. Tomi Coker, in February 2022, when the state launched a health insurance scheme for the informal sector.
… Ogun Launches Health Insurance Scheme for Informal Sector.
The state government had recently launched Health Insurance Scheme for the Informal Sector of the state economy.
While launching the scheme, it  said it has paid up a total sum of N200 million grant to the Basic Health Care Provision Fund as part of its resolve to take advantage of the health scheme in the state.
The State Governor, Dapo Abiodun, noted that the formal take-off of the health insurance scheme was another step towards capturing the all-important sector in the social health safety.
… Ogun Govt. Keeps Mum Despite Enquiry 
The Commissioner for Health and well being, Dr. Tomy Coker was reached out to for reaction over the plights of the community.
Coker was contacted through a  message asking her to share the state government's plans and efforts to either stop or reduce maternal mortality rate.
But, she however, refused to respond to the messages sent  days before the publication.
The Executive Secretary of the Ogun State Primary Health Care Development Board, Elijah Ogunsola was also contacted and had yet to respond.
 He was contacted  through the information officer of the board.
Do you want to share a story with us? Do you want to advertise with us? Do you need publicity for a product, service, or event? Contact us on WhatsApp +2348183319097 Email: platformtimes@gmail.com