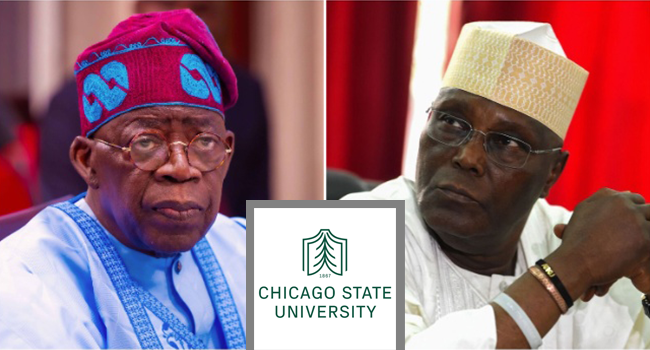 Daud Olatunji
In a significant development, the Supreme Court of Nigeria has announced that it will hear the appeal made by Atiku Abubakar, the presidential candidate of the People's Democratic Party (PDP), on Monday, October 23. 
Atiku is seeking the nullification of President Bola Tinubu's victory in the presidential election.
This appeal revolves around Atiku's claim that President Tinubu submitted a forged certificate to the Independent National Electoral Commission (INEC) during the election.
 In a hearing notice made available by Channels Television, the Supreme Court has scheduled the hearing for 9 am on the specified date. 
During this hearing, Atiku's legal team will have the opportunity to present their case before a panel of seven Justices. 
The core issue to be addressed during the hearing is whether the Supreme Court possesses the authority to grant Atiku's request for fresh evidence in this matter.
The proceedings will also involve arguments from legal representatives of President Tinubu, the All Progressives Congress (APC), and the Independent National Electoral Commission (INEC), all of whom are joint respondents in Atiku's motion.
 They will present their arguments and cite relevant laws to determine whether the request for new evidence is admissible under the country's Constitution and the Electoral Act of 2022.
Atiku's appeal hinges on the introduction of academic records belonging to Tinubu. These documents, consisting of 32 pages, were obtained from Chicago State University on Monday, October 2.
 The university released these records following a court order issued by Judge Nancy Maldonado of the District Court of Illinois, Eastern Division, Illinois, United States of America.
The upcoming Supreme Court hearing promises to be a pivotal moment in Nigerian politics, as it will determine the fate of President Bola Tinubu's election victory and potentially set a precedent for the use of fresh evidence in electoral disputes. 
The eyes of the nation will be on the court as these legal proceedings unfold.
Do you want to share a story with us? Do you want to advertise with us? Do you need publicity for a product, service, or event? Contact us on WhatsApp +2348183319097 Email: platformtimes@gmail.com