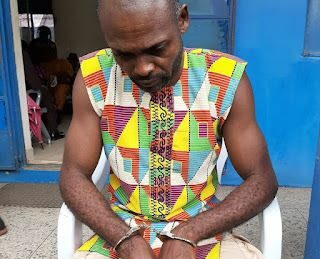 Daud Olatunji
In a shocking turn of events, a 48-year-old man named Ishioma Ordu, originally from Oshimil North Local Government Area of Delta State, has been apprehended by the Edo State Police for allegedly orchestrating a robbery that resulted in the tragic death of a petrol station supervisor, Eze Emmanuel, in Benin City.
Ordu, who had recently been suspended by the petrol station owner, confessed to devising the robbery plan alongside two accomplices who remain at large. 
His motivation stemmed from what he perceived as unjust treatment by his employer.
However, Ordu claimed that their initial intent did not involve causing harm to the station's supervisor, situated along Benin-Agbor Road in Benin City.
The horrifying incident unfolded around 12:43 a.m. on September 11, 2023, when the robbers infiltrated the fuel retail outlet, fatally shooting the supervisor and making off with a staggering sum of N6.8 million.
Ordu openly admitted to his involvement in planning the robbery after his suspension, which occurred without receiving his N80,000 salary for that month. 
He revealed that a heated altercation with a female petrol attendant had led to his suspension and subsequent desire for revenge.
He stated, "I have been working at the petrol filling station for about three years. Towards the end of last July, I beat up a girl who was a petrol attendant at the station. 
"My director suspended me and refused to pay me that month. Even when I sent text messages to beg him, he didn't respond. 
"The next thing I heard was that he had traveled abroad. That is what gave me the mind to do that act."
Ordu provided details of how he instructed his cohorts to carry out the robbery, emphasizing that their orders were not to take lives but to seize the money when the station's power supply was disrupted. Tragically, the co-supervisor lost his life in the process.
Following their successful heist, the stolen money was distributed among the culprits on the same night, hidden on undeveloped land near the petrol station. 
Ordu admitted to receiving over N4 million from the N6.8 million proceeds and revealed that he used part of the ill-gotten gains to purchase an unregistered Toyota Sienna car.
Edo State Police Spokesman, SP Chidi Nwabuzor, confirmed that an investigation is underway, and a manhunt is in progress to apprehend the two other suspects involved in the robbery. He assured the public that Ordu will face appropriate charges for his actions.
Do you want to share a story with us? Do you want to advertise with us? Do you need publicity for a product, service, or event? Contact us on WhatsApp +2348183319097 Email: platformtimes@gmail.com