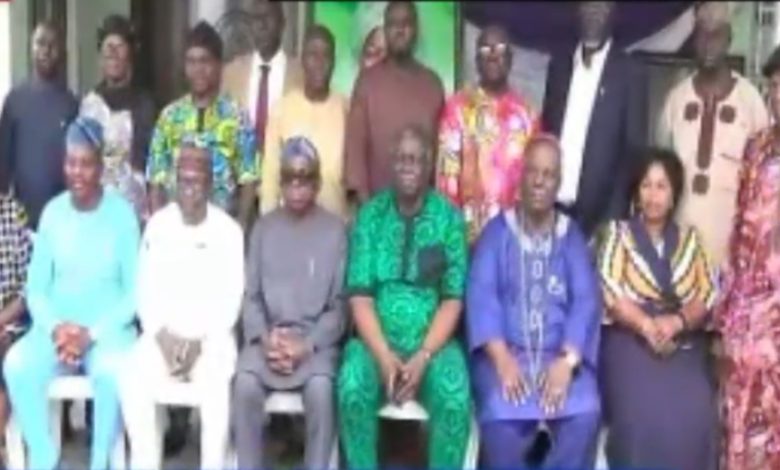 Daud Olatunji
In a heartwarming show of respect and gratitude, the governing council and management of Tai Solarin University of Education, Ijagun, Ijebu, led by Prof. Rahman Bello, gathered to pay a poignant condolence visit to the family of the late Chief Mrs. Alaba Oluwaseun Lawson.
Chief Mrs. Lawson, known as the Iyalode of Egbaland and Yorubaland, had passed away at the age of 72, leaving a void in the hearts of many who had known her remarkable contributions.
Speaking at her residence in Abeokuta, Prof. Bello who is the pro-chancellor of the university, described Chief Mrs. Lawson's legacy as a dutiful and active member of the council, sayig she had left an indelible mark in the annals of the foremost university of education in Nigeria.
He said " Her unwavering commitment to education and service to her community was a beacon of inspiration for all who crossed her path.
Prof. Rahman Bello, reflecting on his long-standing acquaintance with Iyalode Lawson, shared, "I have known Iyalode since 1994, that was when I came to serve in the state executive cabinet.
" I knew her to be very committed to the development of Ogun state, because she worked with every single government that governed the state. I knew her in that capacity, and she has remained that way until we met in this council."
The visit to Iyalode Lawson's Abeokuta home was not only an opportunity to offer condolences but also a moment to celebrate a life dedicated to the betterment of Ogun state.
 It highlighted the profound impact she had on the university and the wider community, as her contributions extended far beyond the walls of the institution.
The legacy of Chief Mrs. Alaba Oluwaseun Lawson will continue to shine brightly, serving as a testament to the enduring impact one dedicated individual can have on education, community development, and the state at large. 
Her memory will forever be cherished, and her spirit will continue to inspire future generations.
Do you want to share a story with us? Do you want to advertise with us? Do you need publicity for a product, service, or event? Contact us on WhatsApp +2348183319097 Email: platformtimes@gmail.com