Israel Adeleke 
The Vice-Chancellor of Tai Solarin University of Education (TASUED), Professor Oluwole S. Banjo, emphasized the importance of embracing modern administrative trends for efficient service delivery in the 21st century.
He made this statement during the opening session of a 5-day training program for principal and administrative officers of public, private, and corporate organizations in the South-West of Nigeria on Tuesday.
The workshop, characterized by intensive sessions, collaborative discussions, and interactive workshops, aims to encourage innovative thinking, challenge existing norms, and develop creative solutions to the challenges faced by organizations in the modern era.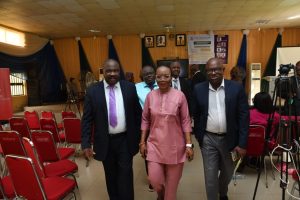 In his compelling speech with the theme, "Modern Administrative Trends: Efficient Service Delivery in 21st Century Organizations," delivered at the 2012 TETFUND Hall, Professor Banjo emphasized the urgent need for organizations to adapt to the fast-paced and technologically advanced global landscape.
He stressed the importance of aligning administrative practices with contemporary trends to ensure effective service delivery.
"In this rapidly changing world, organizations face numerous challenges that require adaptable and efficient administrative practices. Our modern society is shifting towards a more interconnected and technologically driven environment.
"It is imperative that we re-equip our administrators and principals with the necessary skills and knowledge to navigate through the complexities of the 21st century.
"This shift demands that administrative officers stay abreast of the latest trends in managing organizations."
The Vice-Chancellor underscored the significance of digitalization, automation, and data-driven decision-making as crucial elements for effective service delivery.
Professor Banjo also emphasized the importance of networking and fostering connections within the workshop, acknowledging the value of interdisciplinary collaboration and knowledge exchange.
He expressed gratitude to the sponsors for their support, acknowledging their understanding of the pivotal role played by administrative officers in driving change and delivering excellence.
The distinguished experts and thought leaders present were urged to impart valuable experiences, research, and knowledge to equip the attendees with the necessary tools and insights to navigate the dynamic administrative sphere.
The Vice-Chancellor encouraged active engagement, sharing of experiences, and the exploration of innovative approaches among the participants.
He expressed optimism that the collective efforts of the attendees would pave the way for more efficient service delivery in the 21st century, ultimately leading to the development of organizations committed to excellence and responsive to the needs of the communities they serve.
Do you want to share a story with us? Do you want to advertise with us? Do you need publicity for a product, service, or event? Contact us on WhatsApp +2348183319097 Email: platformtimes@gmail.com