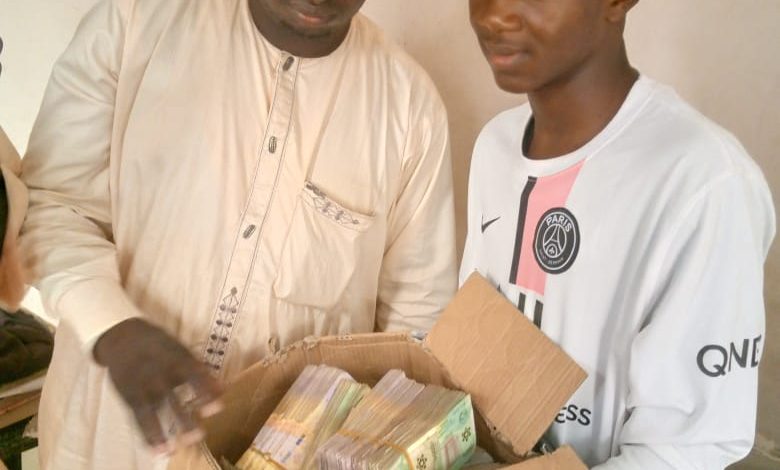 In a heartwarming tale of integrity and kindness, a 22-year-old tricycle rider named Auwalu Salisu displayed an extraordinary act of honesty that touched the soul.
 A passenger from Chad had come to Kano to purchase goods, but little did he know he would leave behind a fortune of N15 million.
The moment of realization struck Auwalu Salisu when he reached his home; the passenger's money had been forgotten.
 His immediate action was guided by a moral compass that shone brightly in the darkness of temptation.
 With unwavering determination, he confided in his parents about the forgotten treasure.
He recounted the journey from Badawa to Bata, where he had transported the passenger.
 Returning to the drop-off point in search of the forgetful traveler, he scoured the area but to no avail. 
His next move was driven by the desire to do what was right. Auwalu returned home and entrusted the money to his mother, who safeguarded it in her wardrobe.
Despite their challenging circumstances, living a life of scarcity and uncertainty, the Salisu family remained resolute in their commitment to returning the money to its rightful owner. 
Auwalu firmly declared, "I had no intention to touch a penny; it's not mine, and thus, prohibited for me."
As they deliberated on the best course of action, fate intervened in the form of a radio announcement. A glimmer of hope emerged as the announcement provided a contact number for the owner. 
Without hesitation, Auwalu dialed the number and reached out to the owner, proposing a meeting at the radio station.
The heartwarming reunion between the tricycle rider, his parents, and the owner took place at the radio station. 
Auwalu, true to his word and guided by his unwavering principles, handed back the entire N15 million to its rightful owner.
In the face of their daily struggles and meager meals, the Salisu family stood steadfast in their commitment to honesty. 
His father admitted, "We barely cook two times a day, and even yesterday, we couldn't cook, while the money was with us."
The owner of the money, overwhelmed by this unexpected act of goodness, expressed his disbelief that such virtuous souls still existed in the world. 
He had given up hope on ever seeing his money again.
 Through his brother, Musa Hassan, he extended heartfelt gratitude to Auwalu and his parents, acknowledging their exceptional upbringing.
In a touching gesture of appreciation, the owner gifted the young man N400,000 as a token of his gratitude, a symbol of the enduring power of honesty and kindness in a world that sometimes forgets their worth
Do you want to share a story with us? Do you want to advertise with us? Do you need publicity for a product, service, or event? Contact us on WhatsApp +2348183319097 Email: platformtimes@gmail.com